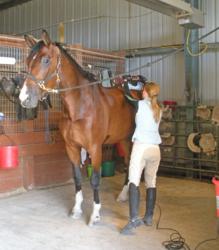 With the support of the EQUISPORTS™ Massager he's actually able to do more and make greater advances in his progress
Kentucky (PRWEB) September 12, 2012
September 12, 2012 Dr. Anna K. Hopla of Martin, Tenn. recently reported to equinetherapy.com that their product, the EQUISPORTS™ Massager is making a big difference in the life of their horse, Rainman, a 2006 Hanoverian gelding. Equinetherapy.com has chronicled this horse's captivating journey on their website – from every cramp and knot to every ribbon and medal. By publishing each of these four installments, Team EQUISPORTS hopes Rainman's recovery will be source of inspiration for other trainers and veterinarians caring for horses with intense equine muscle soreness.
Rainman's story began over a year ago when his veterinarian, Dr. J.T. Burnley of western Kentucky, ordered the Barn Tough massager as soon as she noticed a low-grade soreness that would not go away.
As the stories explain, the full potential of Rainman's performance had been stymied due to a combination of muscle soreness and pains. Despite the best chiropractic efforts, Rainman wasn't able to make any progress toward recovery until the EQUISPORTS Massager, arrived.
Since incorporating the EQUISPORTS™ Massager into his regular routine, Burnley reports they've seen significant differences over the last year and a half. "In addition to a reduction in warm-up time, we've seen both an absence of soreness or stiffness, and a loss of tension through his back and neck. We feel those are contributing to the overall improvement in his pre-work attitude; it's just evident he's feeling better," says Burnley.
"He's also showing improved musculature across his topline, including his croup, hip, and loin. That's coming with the increased physicality of his training, but with the support of the EQUISPORTS™ Massager he's actually able to do more and make greater advances in his progress."
"Last year, in 2011, Ron William II was ranked 6th in the U.S., and was a USDF/Adequan First Level Horse of the Year top ten qualifier," notes Burnley.
This year, even with the horse going into more difficult second level work, he has surpassed his 2011 results. As of mid-August 2012, Rainman is ranked fourth in the U.S., and is solidly in the Second Level Horse of the Year category as a top ten qualifier.
Rainman's owner is happy, too. "He looks as if he's just floating across the ground," says Hopla. "It just takes my breath away!"
Burnley notes that as with any dressage horse, Rainman's support network is to thank for his progress. "Success in dressage requires an entire team of dedicated individuals, from owners and sponsors to clinicians, veterinarians and farriers, show staff, braiders and grooms, and the list goes on," he says. "The accomplishments of this loyal and fearless horse hinge on the seamless support of this group of individuals as much as they do with the content of the horse's character and his physical and mental capabilities."
Team EQUISPORTS congratulates the Burnleys, Dr. Hopla, and Rainman's "pit crew" for their success so far, and wishes Rainman all the best with his continuing achievements.
Read more about Rainman's progress from stiffness to success at http://www.equinetherapy.com/the-story-of-rainman-part-iv
About Equinetherapy.com
Equinetherapy.com is home to the EQUISPORTS massager, a product of Core Products International, Inc. The EQUISPORTS™ Massager is built in the USA to be Barn Tough. Many horse owners, trainers, and veterinarians have incorporated the EQUISPORTS™ routine into their horse's exercise program to help alleviate muscle fatigue and stiffness. More information is available at Equinetherapy.com.