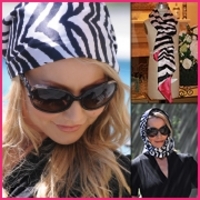 "About seven out of 10 women complain about hairstyle disruption or frizzy hair when it rains."
Lake Forest, IL (PRWEB) April 19, 2011
Of course, the day a lady has perfectly coiffed hair, Mother Nature decides to rain on her parade. About seven out of 10 women complain about hairstyle disruption or frizzy hair when it rains. At last, a Chicago-based mom engineer has created fabulous, eye-popping rain scarves for the fashionista in active, on-the-go women. Women will look fresh no matter what the weather.
Each rain scarf is a quick and hands-free rainwear alternative to the umbrella. The new dual-purpose patent-pending Pop.N.Go rain scarf combines style and function, bringing vintage Hollywood glamour with modern day water-resistant fabrics. Moreover, for "green" enthusiasts, this could mean "no more ol' granny plastic scarves." About 7 billion pounds of PVC plastic are thrown away in United States every year according to the Clean Air Council. Unlike granny plastic rain scarves and umbrellas which protect hair but need to be hidden for events, Pop.N.Go can be worn effortlessly as a stylish scarf, wrap or tied onto a woman's purse strap. This Pop.N.Go rain product is an eco-friendly, chic travel and commute companion for work, cocktail parties, spectator sporting events, post-hair salons visits and more.
How does the Pop.N.Go Rain Scarf work? Designed with a dual purpose for quick hairstyle protection, a woman can pop her scarf around her neck for style. If rain unexpectedly happens, just pop the rain scarf over her hair to control hair frizz. This moisture wicking yet, lightweight convertible scarf protects her hair against rain, wet snow, humidity and wind. So stylish and versatile, this convertible rain scarf is 1) hands-free, 2) water-resistant, 3) packable and purse-ready, 4) reusable and 5) washable when needed. It is an anti-frizz and non-umbrella solution for the active, on the go woman.
Pop.N.Go offers a choice of three scarf styles: 1) Printed swags, 2) ruched French Ruffles and 3) Signature fabric in infinity loop style. Signature base fabric is custom treated and dyed. All about 72-inch in length styles are manufactured here in the United States - MADE IN USA. Visit http://www.BuyPopNGo.com to see more styles and video.
###