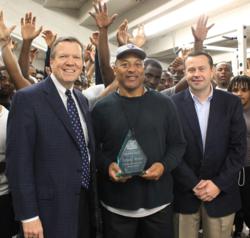 The 'team' aspect of football teaches trust among players and coaches, pursuit of excellence in unison, and caring for others by being a part of something that is bigger than oneself.
(PRWEB) December 06, 2011
Rainwater, Holt & Sexton recently honored Richard C. Wilson, head football coach and associate athletic director of Arkansas Baptist College, for his devotion to being an outstanding mentor to his players. As the latest honoree of The Ripple Effect program, Wilson has been leading players to victory, both on and off the field, for more than 30 years.
"All across America, coaches have profound impact on young people's lives," said personal injury attorney Mike Rainwater, founder of Rainwater, Holt & Sexton. "Rainwater, Holt & Sexton. Sometimes, however, it's taken for granted. We wanted to stop and recognize an everyday hero for having a source of positive influence on everyone around him."
Wilson, an Arkansas native and former Razorback defensive back, joined Arkansas Baptist College in 2007, where he was tasked with building its football team, the Buffaloes, from the ground up. Since then, he has consistently grown the team, teaching his players to strive for nothing but the best.
"The game of football is a great teaching model for young athletes to learn the fundamental principles used by highly successful corporations, churches, and families," Wilson said. "The 'team' aspect of football teaches trust among players and coaches, pursuit of excellence in unison, and caring for others by being a part of something that is bigger than oneself."
Wilson's resume shows an impressive career. He played football for the University of Central Arkansas and then transferred to play as a defensive back at the University of Arkansas under the guidance of Lou Holtz. Since graduating, he's coached at El Dorado High School, Jacksonville High School, the University of Missouri, The Citadel, the University of Arkansas, Clemson University, Eastern Michigan University, Oklahoma State University, the University of Minnesota, Minneapolis North Community High School, and Arkansas Baptist College.
Attitude is Everything
Wilson truly enjoys mentoring student-athletes and has come to understand their desires and expectations regarding his ability to coach them to success on the field. He's also come to realize how important his influence can be to their personal welfare outside of football.
"Thanks to Coach Wilson, I've learned many things about life as well as football," said Gary Artiste, who is a sophomore at ABC and plays center for the Buffaloes. "Coach Wilson taught me that character can take you a long way in life and that attitude is everything. He also taught me that, for the big things to come your way in life, you have to start with the small things."
About Arkansas Baptist College
Founded in 1884, Arkansas Baptist College (ABC) is a private, historically black, four-year liberal arts college located in downtown Little Rock, Arkansas, near the River Market area and the Clinton Presidential Library. ABC has a small, cohesive, student environment with an open enrollment policy, accepting all eligible students with a high school diploma or GED equivalent.
What's the Ripple Effect?
Rainwater, Holt & Sexton launched The Ripple Effect to shine a spotlight on everyday heroes— people who are engaged in the ministry of a faithful presence—doing what they've been called to do and inspiring others in the process. The Ripple Effect is an ongoing initiative that celebrates and shares the stories of local heroes who continue to make a positive difference. Honorees receive engraved trophies and a charitable donation from the law firm.
About Rainwater, Holt & Sexton
Rainwater, Holt & Sexton is comprised of Arkansas injury lawyers who have successfully litigated a wide range of claims throughout the state. With a staff of nearly 50 legal professionals, the Little Rock-based law firm focuses on plaintiffs' personal injury law. The firm's attorneys are committed to representing the rights of individuals and take pride in their reputation as knowledgeable litigators and effective negotiators.
###