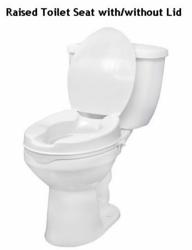 An Elevated seat is a perfect solution for individuals with limited mobility due to arthritis, various surgeries, leg trauma, disabilities, or old age.
Baltimore, MD (PRWEB) May 02, 2012
Effective March 1, 2012, Raised Toilet Seats Online has stopped processing returns on raised toilet seats and commodes due to the hygienic issues. Because such products are considered personal hygiene items, many companies in the industry adhere to the no-returns standard.
Raised Toilet Seats Online is an internet retailer, specializing in raised/elevated toilet seats, commodes, toilet safety rails, lifts, and safety frames for both elongated and standard toilets. The company carries products from such brands as Drive Medical, Invacare, DMI, Carex, and more.
A standard toilet measures only 14 to 15 inches in height, from the floor to the top of the seat, which is why more and more people are opting in for higher and more comfortable raised seats. An elevated seat is a perfect solution for individuals with limited mobility due to arthritis, various surgeries, leg trauma, disabilities, or old age.
Many public restrooms, as well as those in hotels, hospitals and assisted living facilities comply with the Americans with Disabilities Act (ADA) by providing raised toilet seats for their customers. However, it is also possible to enjoy the comfort of an elevated seat in one's home.
Because elevated toilet seats are non-returnable, it is important for the customers to choose the right product the first time. Deciding how long the riser is needed for is a good place to start, as it will help to determine whether a permanently attached seat or a more temporary, removable, solution is needed.
One of the main reasons for zeroing in on a particular toilet seat riser is the height. Elevated toilet seats can add from two to six inches to the toilet, making it easier on one's knees to get on and off. In order to find the comfortable height, cushions can be placed on a chair until the desired position is reached. The riser height is then calculated by subtracting the toilet seat height from the height of the cushioned chair.
The next step is to determine the shape of the toilet seat riser, which will depend on the toilet shape. Toilets come in two shapes: standard (round) and elongated. Toilet seat risers need to match the shape of the toilet; otherwise it won't be stable.
Once the height and shape are determined, it's time to choose from other design options that provide extra comfort. Some elevated toilet seats come with padding, which makes the seat soft and cushioned. Many toilet seat risers are equipped with built-in or removable arms and rails for support in getting on and off the toilet.
Some medical procedures, such as hip replacement surgeries, require specific elevated toilet seats with cutouts to minimize hip movement. For an easy transfer from a wheelchair, there are also special raised seats with gripping slots that ensure safety and the convenience of moving between the chair and the toilet.
Because elevated toilet seats add several inches to the height of one's toilet, it changes the look of your bathroom and often can't be used with the standard toilet seat cover and lid. However, there are products that allow for securing the lid on top of the elevated seat for a more traditional look.
Whether one's seat riser is a temporary or a permanent solution, Raised Toilet Seats Online offers a wide assortment of products for various needs and is always ready to assist its customers with making the right choice.
About Raised Toilet Seats Online:
Raised Toilet Seats Online specializes in providing toilet seat risers, commodes, and other medical equipment from such manufacturers as DMI, Carex, Columbia Medical, Invacare, etc. For more information, please visit http://www.raisedtoiletseatsonline.com.