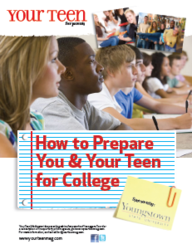 The extensive guide looks at the transition to college from multiple angles.
Beachwood, OH (PRWEB) August 08, 2012
Your Teen Magazine for Parents today released "How to Prepare You & Your Teen for College," a free guide that takes a close look at everything from practical advice from a former freshman to sound suggestions for parents, including parenting mistakes to avoid.
The extensive guide looks at the transition to college from multiple angles, including how to stay in touch, following your teenager's lead, and encouraging independence. Different viewpoints include questions from high school students anticipating college, advice from parents and college students who draw from their experiences.
Get the free guide here:
http://yourteenmag.com/college-survival
"When I left for college many, many years ago, I never considered the challenges for my parents; I was only worried about me," Editor-In-Chief/Publisher Susan Borison says. "As my child prepares to leave for college, I see the transition through a very different lens and I appreciate any and all advice, especially mistakes to avoid."
Distinct sections include:

The Summer Before College
Parents' Biggest Mistakes
Top 10 Pieces of Advice from a Former Freshman for Future Freshmen
Words of Wisdom for Your College Bound Teen
Questions from High School Seniors / Answers from a College Student
The guide includes numerous tips.
For example, now is the time for parents to have a general discussion about a healthy lifestyle at college. The guide acknowledges "late-night pizza runs" (hopefully tied to studying). Generally, it's essential that students get plenty of rest and eat healthy meals (which can even reduce stress).
Three (of 10) parenting mistakes:
1. Calling 10 times a day "just to check in."
The more you call, the harder the separation. Call or text a reasonable amount, something you discuss with your teenager beforehand. Leave the rest up to them.
2. Holding daily Skype sessions.
Think of it this way: the longer a teen is on Skype, the less time they are with new friends, studying and investing in new activities.
3. Doing laundry or taking a son or daughter out for weekly meals (for parents who live close by). Parents who live in close proximity may have a harder time separating. Create a physical distance similar to the out-of-town students.
A former college freshman offers advice on a wide range of topics, including, "Hang out with friends. You can learn so much from sitting around someone's room at 2 a.m. on a weeknight listening to their experiences, perspectives and advice."
A college student offers diverse tips for high school seniors who want to know what to expect. Here are two examples:
Q: What do you do about "sexile" (when you come back to your room at night and your roommate is in the room with a guy/girl and you're locked out)?
Q. Are professors intimidating? Do you meet with them during office hours?
About Your Teen Magazine for Parents
Your Teen addresses the challenges inherent in raising teens and helps parents to continue the journey toward the goal of successful parenting. In the magazine format, parents can pose questions, offer personal tactics and hear the different perspectives of professionals, other parents, and teenagers on relevant topics. Your Teen hopes to ease the worry.