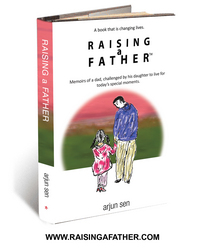 I was talking on my cell phone and fixated on my computer as usual, when my daughter passed me a slip of paper with three questions on it: Who's my best friend? What's the most fun thing we have done together? What's my favorite restaurant?
Centennial, CO (Vocus) June 9, 2010
In an age when parents struggle to make ends meet, when the pressures of work and other commitments take us away from spending time with our families, parents — especially fathers — can lose sight of the simple connections that are so crucial to a child's development, says Arjun Sen, Author of the memoir, Raising a Father. In his book, Mr. Sen describes his own life-changing moment that occurred the day after September 11, when unable to travel, he was home working with his then 8-year-old daughter.
"I was talking on my cell phone and fixated on my computer as usual, when my daughter passed me a slip of paper with three questions on it: Who's my best friend? What's the most fun thing we have done together? What's my favorite restaurant?," Mr. Sen explained. "I was stunned when I realized that I was unable to answer even one of her questions. That night, I couldn't sleep for envisioning a future where my only contact with my daughter would be the obligatory birthday and Father's Day card."
Raising a Father is a heartfelt tale of one parent's journey to a new relationship with his child. The book, which has been critically acclaimed by parenting groups, publications and blogs across the country, describes the life-changing measures Mr. Sen undertook to enhance his relationship with his young daughter as she helped "raise" him to become the father he is today. Through his personal journey and through his travels across the country sharing his message with hundreds of parents, Mr. Sen has developed, "Five Do's and Don'ts To Reconnect With Your Children Now."
The Five Do's
#1: Be Present
Time is the most amazing gift a parent can give their child. And when you make your gift of time a surprise, the time is magnified in your child's eyes and becomes engrained in their heart.
#2: Feed Your Way In
There is nothing more incredible than seeing the reaction of a child when you cook his/her favorite meal and serve it with style -- and not just on their birthday.
#3: Put Your Child's Events on Your Calendar
This is a simple way of staying connected to the activities and events of importance to your child and that make up his/her life.
#4: Listen to Unreasonable Requests
Children, like parents, have problems and challenges in their lives which seem like huge obstacles to them. From time to time, they may confront you with what initially seems to be an unreasonable request. Before you shut a child down with an "absolutely not!" try to view the request from their perspective. Children have many constraints -- they cannot go anywhere without you or buy anything without you -- and you will stay more connected to your child by empathizing and by listening to their concerns.
#5: Say "I love you" and Hug Often
We all love our children, so why not let it show?
Saying I love you and hugging my daughter every chance I get allows me not to regret a single missed opportunity.
The 5 DONT'S
#1: DON'T Multitask
We parents get irritated when we talk to our children and they look at us blankly while earphones blast music into their ears, but guess who they learned this behavior from? How do you think they became experts at this? Isn't this the same thing we do when our child comes to talk to us and we look at our smart phone and nod our head as we listen?
#2: DON'T Bribe
It is tempting to bribe our children when we cannot spend adequate time with them. I look at the toys and teddy bears stacked in my daughter's room, each one with a story behind it. In most cases, I missed an opportunity to be with her so I distracted her with gifts so that I would not have to see her disappointment. Today I know that the gift of time is the only bribe that I can use that really works like magic.
#3: DON'T Cancel at the Last Minute
Just like there are cancellation policies with hotels and airlines, I too have made my own cancellation policy with my daughter. No cancellation is allowed within 24 hours of an event without a major penalty.
#4: DON'T Make A Child Feel Like Your Second Choice
Your child is not a second choice in life. Yes, work and other commitments in life put pressure on us, and none of us have more than 24 hours in a day. Whenever possible, let your child be your first choice, and don't be tempted by less important tasks that could take your time away from him or her. Let your child know that he or she is your priority in life.
#5: DON'T Lie
This is a tough one. There are times we, as adults, live in worlds of half-truths. Professionally, there may be some times when we stretch the truth to our benefit, but these are justifications that do not work in relationships with our children.
For more information about Arjun Sen and his book, "Raising a Father," please visit the Raising a Father blog.
# # #