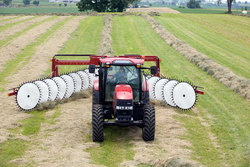 Case IH's new WR rakes and CM crop mergers are built to handle high capacities so you can maximize the productivity of your baler or forage harvester. Quality is really everything with forages.
Racine, Wis. (PRWEB) September 16, 2009
The new Case IH WR101 and WR401 HD wheel rakes and CM212, CM209, and CM109 line of crop mergers deliver premium-quality hay:
Faster with higher capacities to help you make quality hay faster
Easier with simple-to-use controls and adjustments
Longer with season after season of durability, regardless of field conditions
Case IH WR Series wheel rakes feature quick, easy adjustments that can be made without removing or adding any components. Case IH CM Series mergers are also easily set to crop conditions. However, the feature operators really appreciate is the capacity, which is second to none thanks to a 42-inch cross conveyor belt.
"Premium quality hay relies on it coming off the field on time," says Shawn Boone, Case IH livestock marketing manager. "Case IH's new WR rakes and CM crop mergers are built to handle high capacities so you can maximize the productivity of your baler or forage harvester. Quality is really everything with forages."
WR401 HD Wheel Rake
The new Case IH WR401 HD wheel rake has 17 wheels and a maximum raking width of 30 feet 3 inches: "Raking wheels are offset with eight wheels on the left frame and nine on the right frame," explains Boone. "This design allows the entire crop to be turned, eliminating the need for center kicker wheels."
Another handy feature is a master switch that allows the rake wheels to be lifted independently - left or right or both at the same time. You can also adjust windrow width hydraulically to a maximum width of 72 inches.
Boone adds that these rakes are heavy-duty. "They are built to handle tough, uneven terrain," he says. "The 60-inch rake wheels feature heavy iron gussets for superior strength, UV-treated poly wind panels, an over center wheel stop and torsional dampening springs for flotation."
WR101 Deluxe Carted Wheel Rake
The new Case IH WR101 wheel rake - available as 8-, 10- or 12-wheel units - is simple to operate and maneuver, both in the field and during transport. Featuring a strong frame made of structural tubular metal, the Case IH WR101 is equipped with 15-inch tires for stability and durability in the field. The high-frame carted design ensures unobstructed crop flow. The rake frame hydraulically raises and lowers and folds to an above-frame position for transport.
"Rough, uneven fields are not an issue for this rake," says Boone. "The rake arms have a precise system of shock absorbers. There's also a system for oscillating the raking wheel holders so the machine can adapt to uneven terrain. Similarly, the adjustable pressure spring suspension allows the rake wheels to work at correct load and follow the ground profile accurately."
Optional features include a central raking wheel kit and a windrow kit that allows for easy adjustment of the working width and windrow width directly from the tractor. Both kits can be installed on the basic machine without any alterations.
CM212 and CM209 Hydraulic Tongue Merger
Case IH models CM212 and CM209 hydraulic tongue mergers allow operators to increase the crop volume in a windrow for high-capacity forage harvesters. "Every pass the forage harvesters make is more productive - not to mention it also reduces fuel costs and labor requirements," says Boone. "Case IH mergers can combine two to three windrows from 9-foot to 18-foot cuts."
The CM212 and CM209 provide pick-up widths of 12 feet and 9 feet, respectively. Both models have a hydraulic swing tongue, allowing the tractor to operate to the left side of the windrow or swath being picked up. A tractor-mounted electric control box manipulates the tongue swing, as well as pick-up raising and lowering.
Case IH CM mergers distribute material smoothly and evenly without bunching for premium quality forages thanks to a heavy-duty, 42-inch wide, ribbed cross conveyor. Optional 2-foot, 4-foot and 6-foot conveyor extensions are also available. The cross conveyor's ribbed belt delivers the crop to the right side for merging and easily accommodates the massive flow of material. Quick couplers on the conveyor drive motor reverse the cross conveyor for windrow inverting. A high rear panel prevents overflow and spillage.
CM109 Fixed Tongue Merger
Like the Case IH CM212 and CM209, the CM109 merger is hydraulically driven and features independent head flotation, a 42-inch wide cross conveyor, poly wind guards and an anti-wrap guard on the cross-conveyor bearings. The CM109 model uses a center-pull design that has a fixed tongue and standard hitch for transport.
The CM109 picks up the crop, delivers it rearward onto the cross conveyor belt, which moves the crop to the right side, producing a new windrow or merging with an existing windrow. Operators can merge windrows spaced from 9 feet to 12 feet apart or from 11 feet to 14 feet apart with the addition of an optional 2-foot extension.
"Capacity on the CM109 merger is second to none," says Boone. "Not only is this merger efficient, but it is also durable. It can handle tough field conditions while providing a smooth, clean pickup of material."
It's easy to change from right-side to left-side mergering by switching two quick-disconnect hoses around. Or invert windrows with an optional inverter attachment. "When this attachment is used, the cross conveyor's operating direction is reversed so the crop is delivered to the left side," explains Boone. "This attachment can be installed in a matter of minutes as two bolts secure it to the main frame."
Case IH is a global leader in agricultural equipment, committed to collaborating with its customers to develop the most powerful, productive, reliable equipment - for those who demand more. With headquarters in the United States, Case IH has a network of dealers and distributors that operates in over 160 countries. Case IH provides agricultural equipment systems, flexible financial service offerings and parts and service support for professional farmers and commercial operators through a dedicated network of professional dealers and distributors. Productivity enhancing products include tractors; combines and harvesters; hay and forage equipment; tillage tools; planting and seeding systems; sprayers and applicators; and site-specific farming tools. Case IH is a brand of CNH (NYSE: CNH), a majority-owned subsidiary of Fiat Group (FIA: MI).
# # #