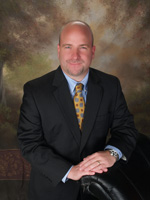 No matter what the state of the economy is, there is usually going to be some amount of financial stress that accompanies the emotional stress in a divorce.
Raleigh, N.C. (Vocus/PRWEB) April 08, 2011
According to a March 10 article on msn.com, "Breaking up is hard to do because of the economy." However, an article published just two weeks later in The Orlando Sentinel proclaimed, "Better economy has more couples feeling freer — to divorce."
Who's right?
To a degree, neither article, according to Raleigh divorce lawyer Charles R. Ullman.
"I'm sure there are a variety of views out there today on how the economy is impacting marriages and divorces," said Ullman, the founder of Charles R. Ullman & Associates, a Raleigh law firm that concentrates on family and domestic law matters. "Whenever you use broad brush strokes like that, you're not going to paint an entirely accurate picture, because each couple is different and will have unique issues involved in their marriage and divorce.
"However, these recent articles do highlight that financial issues undoubtedly play a significant role in most divorces," he said. "That's why it's important for a person to consult with an experienced divorce lawyer who will focus on the unique financial considerations that their marriage and divorce presents."
What are some of those financial considerations?
According to Ullman, who has represented parties in divorces throughout Wake County and surrounding areas in North Carolina, the most important issues will usually surround division of the marital property.
North Carolina follows a three-step asset division process that's called, "equitable distribution." The steps involve identifying and classifying property as marital or separate, assigning a fair market value to each property item and distributing the property equally between the parties unless it can be shown that an equal division would be unfair.
The equitable distribution occurs before the final divorce decree or afterwards if action has been taken to preserve one's rights before the divorce judgment is entered. The property is usually divided in a settlement agreement that is reached through a process called mediation.
According to Ullman, it's important to know one's financial situation in order to negotiate a fair property settlement in a divorce. He said a divorcing spouse should collect as much financial information as possible, such as records of bank accounts, stock options, deferred compensation plans, retirement accounts and real estate records, including mortgage statements, taxes and other liens or assessments.
"After collecting all of this information, a couple may possibly decide that divorce is not in their best interest because of the financial consequences," Ullman said. "The problem arises when emotions take over, and a couple accepts financial terms just to get the marriage behind them. What could end up happening is that one or both of the parties could quickly find themselves in a financial crisis.
"Another situation that could arise is that one spouse may attempt to hide joint assets to transfer them out of the other spouse's name. That's when having legal representation is crucial to protecting one's rights."
In addition to property distribution, other financial considerations in a divorce are the possibility of paying alimony, or spousal support, and paying child support, Ullman said.
"No matter what the state of the economy is, there is usually going to be some amount of financial stress that accompanies the emotional stress in a divorce," he said. "An attorney's job should be to minimize that financial stress as much as possible by thoroughly reviewing a client's case and looking at all legal options."
About Charles R. Ullman & Associates
The Raleigh law firm of Charles R. Ullman & Associates, located on 109 S. Bloodworth St. in Raleigh, N.C., concentrates on family law, including divorce, child custody, child support, visitation, alimony, post-separation support and equitable distribution. Ullman is also a trained collaborative law attorney. For more information, contact the firm by calling (919) 829-1006 or use its online contact form.
# # #