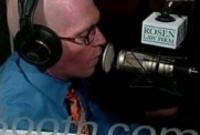 Whose Fault is The Affair
Raleigh, NC (PRWEB) September 20, 2009
StayHappilyMarried.com, a free service of North Carolina family law firm, Rosen Law Firm, discusses who is to blame for infidelity in it's latest podcast, "Whose Fault is The Affair". Every week, Stay Happily Married features important issues facing today's marriages.
In "Whose Fault is the Affair" host, Lee Rosen, attorney and CEO of Rosen Law Firm and Dr. Stephen Frueh, marriage coach and author, discuss how both spouses can contribute to an affair.
Dr. Frueh asserts that it is the responsibility of both spouses to communicate and work together in order to prevent an affair. Dr. Frueh also provides tips on how to build a healthy marriage, "Marriage is a collaborative affair: we collaborate on money, parenting, choice of house- but we don't collaborate easily on the quality and richness of marriage," says Dr. Frueh.
Stay Happily Married is the leading resource for information on finding a Raleigh marriage counselor. StayHappilyMarried.com features an extensive directory of mental health professionals and NC financial professionals across a variety of specialties throughout the state of North Carolina.
The weekly marriage podcast produced by Stay Happily Married feature interviews with mental health professionals, marriage counselors, bestselling authors, and life coaches from across the country. Recent episodes include; "What Happened to your Sex Drive?", "Did I Marry the Right Person?" and "Is your Spouse Always Wrong?" Stay Happily Married is a top destination for locating a Charlotte marriage counselor and is a free service of Rosen Law Firm.
About Rosen Law Firm
With offices in Raleigh, Charlotte and Chapel Hill, Rosen Law Firm is one of the largest divorce firms on the East Coast. Founded in1990, the firm is dedicated to providing individual growth and support to couples seeking divorce by helping them move forward with their lives. Our staff of attorneys, financial professionals and specially trained divorce coaches expertly addresses the complex issues of ending a marriage. Our innovative approach acknowledges that divorce is so much more than just a legal matter. Practice areas include; child custody, alimony, property distribution, separation agreements and domestic violence relief.
For more information on a Raleigh divorce lawyer, Rosen Law Firm and Stay Happily Married, or for an interview, please contact Ned Daze at Rosen Law Firm, or visit http://www.rosen.com.
Media Contact:
Ned Daze, Director of Public Relations
Rosen Law Firm
919.256.1558
http://www.rosen.com
###