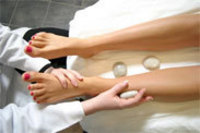 One of the most disturbing practices happening in spas today is leaving clients unattended in treatment rooms
Raleigh, NC (PRWEB) December 1, 2007
Raleigh Day Spa Expert Kile Law , owner of Blue Water Spa voted best medical spa in America urges consumers to ask about a spas policy of clients being left alone in treatment rooms before scheduling an appointment or purchasing a gift certificate.
"One of the most disturbing practices happening in spas today is leaving clients unattended in treatment rooms," says Kile Law, owner of Blue Water Spa in Raleigh, NC. Rather than giving clients 100% of their attention, many spas actually have therapists working on two clients in different rooms at the same time. it is not unusual in some spas for a client to be left alone under a facial steamer or with a treatment masque on their face while a therapist starts a facial on another client in a different room. In some spas, facialists are performing waxing treatments on one client while another client is left alone waiting, for the therapist to return, often for extended periods of time.
Being left alone in a treatment room is not only uncomfortable and stressful for a client, but it can be dangerous. Clients could fall off a facial table, be burned by a steamer or end up with a reaction from a product left on their skin too long.
Many people going to spas are looking for stress relief, relaxation and a little "alone time" At Blue Water Spa in Raleigh, NC, the policy allows for quiet time when clients will sometimes drift off to sleep. Giving a person peace, stress relief and relaxation in a quiet, dimly lit room can be extremely relaxing. But a better, and safer alternative to having a therapist leave the room during a treatment is to have a therapist quietly and expertly massage the upper body, hands, arms, feet or scalp of a client receiving a spa treatment.
In order to determine the policy of a spa, ask the spa manger before scheduling an appointment or purchasing a gift certificate. A spa experience should be a client receiving 100% of a therapists attention, not sharing the therapist with another guest at the spa. Kile also strongly recommends avoiding spas with sales quotas.
Kile Law is owner of Blue Water Spa and a self professed spa junkie. She has been a spa professional since 1992. Blue Water Spa has been named best spa in Raleigh, Best Place to Work in the Triangle by the Triangle Business Journal and Best Spa in America by American Spa Magazine. Kile is the winner of the 2004 ABBIES award, one of the highest honors in the professional beauty industry. She was named Humanitarian of the Year by Aesthetics International. The spa continues to recognize people who make the Raleigh, NC community great .
For more information, visit http://www.bluewaterspa.com or call (919) 870-6066.
###