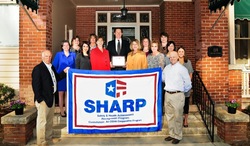 "It is an honor to be awarded this designation from the state Department of Labor,"
Raleigh, N.C. (PRWEB) March 29, 2011
Robert L. Williamson III, DDS, of Raleigh Comprehensive & Cosmetic Dentistry (http://www.raleighdentist.com), has been awarded the Safety And Health Achievement and Recognition Programs (SHARP) Award by the North Carolina Department of Labor recognizing the practice for its outstanding health standards and practices.
The practice is one of only two medical or dental offices in the state to earn the certification. SHARP is a program that recognizes small and mid-size employers who have developed and maintained effective safety and health programs, setting the benchmark for level of care. North Carolina Labor Commissioner Cherie Berry attended the ceremony recognizing the practice on Friday, March 18 at its downtown Raleigh location, at 119 North Boylan Ave.
"It is an honor to be awarded this designation from the state Department of Labor," said Dr. Williamson. "My staff and I are proud to achieve and maintain the rigorous standards dictated by the SHARP program. Our efforts provide the highest levels of health and well-being for our patients and for the staff that is dedicated to treating their dental and oral health needs. In addition to knowing that we are dedicated to meeting and exceeding state health and safety expectations, we want our patients to know that we are committed to providing a broad-based scope of dental procedures to ensure the highest level of care. Upon being named as one of the top dental care providers in the country, we felt it was a natural progression to achieve this SHARP distinction in our state and continue to set the standard for excellent dental care."
ABOUT RALEIGH COMPREHENSIVE & COSMETIC DENTISTRY:
A leading North Carolina dental practice, Raleigh Comprehensive and Cosmetic Dentistry is committed to offering high quality dental services and exceptional patient care. Led by Dr. Robert L. Williamson III, Raleigh Comprehensive and Cosmetic Dentistry offers a full spectrum of dental treatment options to patients, including expertise in comprehensive dentistry, cosmetic dentistry, implant dentistry and oral sedation dentistry. Dr. Williamson was selected in 2011 as a Top Dentist in the United States, a distinction he has held for more than seven years by the Consumers' Research Council of America. For more information, visit http://www.raleighdentist.com or call 919-DENTIST (919-336-8478) for a Raleigh Sedation Dentist or cosmetic dentist Raleigh, NC.
More information about the SHARP Award can be found at http://www.nclabor.com/osha/consult/sharp.htm. A PDF list of active SHARP sites in North Carolina can be found at http://www.nclabor.com/osha/consult/sharp_sites.pdf.
# # #