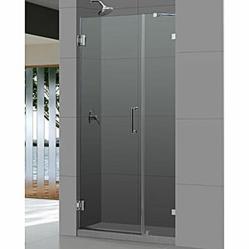 The Radiance collection although sleek with a look of custom glass requires very accurate preparation and measurements
Aiken, SC (PRWEB) November 27, 2012
Choosing the right shower door for an average consumer could be more complicated than it looks at the first glace. There are details that can easily be overlooked causing costly mistakes and project delays. The Radiance collection although sleek with a look of custom glass requires very accurate preparation and measurements. The doors demand a perfect plumb of both walls and a perfect square with the base because all Radiance doors use two glass elements mounted directly on the wall without a frame that would give some room for adjustments. The swinging door is mounted on two hinges attached directly to a finished wall. This installation requires attaching the hinges directly to a stud or to a 2"x 6" wood reinforcement; otherwise the door can detach itself spontaneously from the wall. The stationary panel is held in place by two small brackets mounted on the wall, this way the glass comes directly in contact with the finished wall.
The Radiance doors range from 29" to 60" wide with 1" increment between models; all doors are 72" tall, made out of 3/8" thick, clear tempered glass
.
Models from 29" to 36" wide (SHDR-23297210-04 – SHDR-23367210-04) use a 6" wide glass panel held in place with two brackets on the wall and one horizontal mounted on the base. Since the stationary panel doesn't need an additional side support it can be installed on a narrow 4" wall. The size of the swinging door starts at 23" and increases by 1" with each wider model reaching the final width of 30".
Models between 37" and 44" wide (SHDR-23377210-04 - SHDR23447210-04) use a 14" wide glass panel that, besides the wall and bottom brackets requires and additional support arm mounted at an angle on the top of the panel and attached to the side wall for added stability. This type of installation requires that the panel is installed on a flat wall to which the arm can be attached.
Models between 45" and 52" wide (SHDR-23457210-04 - SHDR23527210-04) use a 22" wide glass panel and models between 53" and 60" (SHDR-23537210-04 - SHDR23607210-04) use a 30" wide stationary panel.
Dreamline recommends, in order to insure long lasting life of the glass shower doors, to wipe them off after each use with a soft cloth. Rinse and wipe of the glass using either soft cloth or squeegee to prevent soap buildup. Never use abrasive cleaners and cleaning products that contain scoring agent because this may scratch the surface. Never use bristle brushes or abrasive sponges.
To assure a long lasting finish the owner needs to wipe off the metal parts after each use with a soft cloth. Never use abrasive cleaners or cleaning products containing ammonia, bleach or acid. If accidentally used, the surface needs to be rinsed as soon as possible to prevent finish corrosion. After cleaning the shiny finishes, they need to be rinsed thoroughly and wiped dry with soft cloth. When applying stainless steel cleaner or polish never use abrasive sponge or cloth, steel wool or wired brushes.
All Dreamline Radiance shower doors are available at Warehouse USA – http://warehouse-usa.com; they are on sale with free shipping throughout 48 contiguous states. For more technical information or if in doubt please don't hesitate to call 888-693-8066.