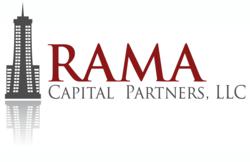 Well managed mortgage pools like The Rama Fund offer consistent returns uncorrelated to broader fluctuations in the capital markets."
Calabasas, CA (Vocus/PRWEB) March 17, 2011
Rama Capital Partners, LLC ("RCP") is pleased to announce that it recently received an investment from a non-profit private school located in Northern California. Alim Kassam, co-founder and Chief Executive Officer of RCP, states that "Three years ago when we embarked upon this business venture, we saw an opportunity to build an investment platform that would offer unparalleled risk adjusted returns. We believe this recent investment marks the beginning of a trend where conservative institutions shift more into alternative investments as they re-allocate their portfolios to prudently manage risk in this environment."
The Rama Fund, LLC has a 29 month track record that is fully audited. The fund's average annualized net return is 10.25%, its weighted average loan-to-value ratio is 40.0%, it has never lost money in any month since its inception, nor has it ever lost money on a single investment.
Josh Nevarez, Partner at Armanino McKenna, says that "Specifically within the broader realm of alternative investments, the union between mortgage funds and institutional investors is a natural progression. Well managed mortgage pools like The Rama Fund offer consistent returns uncorrelated to broader fluctuations in the capital markets." Mr. Nevarez oversees both the mortgage fund and private school practices at Armanino McKenna.
"Josh and his team have been instrumental in helping us to build and stabilize our operating platform. Introducing us to this private school demonstrates his commitment to the success of his clients," declares Kassam. Brian O'Shaughnessy, co-founder and President of RCP, adds that "Our firm recognizes the importance of having a strong back office and the ability to leverage the resources and experiences of Armanino early on helped us to implement stringent internal controls and establish our credibility."
Mr. Nevarez comments that "As accountants and auditors, our clients rely upon us for much more than just crunching numbers. Our goal is to develop long lasting relationships based upon the principals of trust and hard work. While we do not provide investment advice for our clients, we are happy to facilitate introductions and dialogue when it makes sense for both parties. In this particular instance, we had a client who was looking for a high yielding alternative investment with good downside protection, and another client who was looking to scale its investment platform. It was our pleasure to put them into contact with each other."
The Rama Fund, LLC is a California Limited Liability Company that allows investors to pool their financial investments through the acquisition of membership interests. The Fund's pooled resources are then loaned to real estate owners and secured by deeds of trust encumbering the underlying real estate.
Armanino McKenna is the largest California-based CPA & Consulting firm, one of the 25 "Best of the Best" accounting firms in the nation, and a Best Places to Work, both nationally and regionally.
# # #