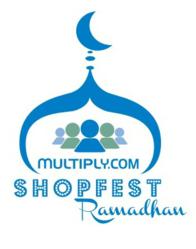 Through the Ramadhan edition of SHOPFEST, we provide buyers access to thousands of the best deals from our Trusted Sellers.
(PRWEB) July 28, 2012
After the success of the first Multiply.com SHOPFEST, Indonesia's first and largest online shopping festival, which took place last May 25th to June 8th, attended by hundreds of thousands of visitors (with 8 million page views), participated by 300 Trusted Sellers and booked thousands of transactions, Indonesia's largest online marketplace Multiply.com will release the second edition of its signature online shopping festival event. For 10 days of the Fasting Month (Ramadhan), from July 30th to August 8th 2012, Multiply will present Multiply.com SHOPFEST Ramadhan.
"During the holy season of Ramadhan, Indonesians are constantly looking for the best offers. Through the Ramadhan edition of SHOPFEST, we provide buyers access to thousands of the best deals from our Trusted Sellers. We provide comfort, convenience and security when shopping online, in addition to the colorful and interactive experience of exploring an online festival. For our merchants, it's a great opportunity to maximize sales, in addition to acquiring new and loyal customers. This event embodies social commerce and digital economy in Indonesia," stated Multiply Indonesia's Country Manager, Daniel Tumiwa.
In line with the Ramadhan theme, for this edition of the online shopping festival, Multiply adds the Ramadhan Products category, offering Moslem wear, traditional Ramadhan food and many more, aside from regular categories such as Men's Fashion & Accessories, Women's Fashion & Accessories, Health & Beauty, Baby & Kids, Handphone, Computer & Cameras, Homewares, Film, Music & Books, Bicycles and Automotives and also Food.
To ensure a smooth online shopping experience, Multiply has prepared site that loads faster and is more tablet-friendly. The various interactive experience offered during Multiply.com SHOPFEST Ramadhan include virtual queue, sale, product demo, treasure hunt, auction and trivias. To enrich the Ramadhan content, Multiply is also working with Majelis Al Bahjah to feature online sermons by Buya Yahya. Furthermore, all activities done by visitors will earn points that will bring them closer to the grand prize, an umroh pilgrimage.
Multiply.com SHOPFEST Ramadhan will be Multiply Indonesia's third promo program this month, aside from Gadget Clearance Sale and Ramadhan Camera Market.
In Indonesia, Multiply.com is presently the largest online market with 90,000 sellers, 2.3 million registered users and 7 million unique monthly visitors. Having operated for a year and a half, the Indonesian office is the company's largest operational unit. The Multiply team in Indonesia has been actively participating in educating the market on e-commerce and supporting the sellers's community. Offering comprehensive online shopping features which enables social interaction between buyers and sellers, the Multiply platform also accomodates the way Indonesians transact by implementing payment methods ranging from bank ATM, e-banking, mobile payment and credit cards. Multiply also offers buyer protection which eliminates the worry of shopping online, even for first time users. Presently, Multiply, Inc. is under the leadership of CEO Stefan Magdalinski. As Country Manager of its Indonesian office is Daniel Tumiwa.
For Media Inquiries, please contact:
Nirmala R. Hapsari
Media Relations & PR Manager
Multiply Indonesia
+62 21 29303558
nirmala(at)multiply(dot)com