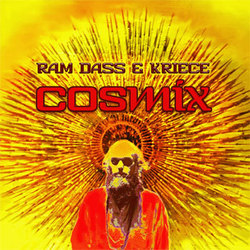 This album represents a full circle for me
La Jolla, CA (PRWEB) August 12, 2008
From his Maui retreat, cultural icon Ram Dass embraces modern music and innovative new media to reach out to devotees across the miles and across the years. His new enhanced album, Cosmix, released today on Waveform Records, La Jolla, CA. Ram Dass' commitment to sharing personal experience is great as ever and his sense of compassion heightened, as felt during his regular satsang webcasts and periodic Hawaiian conferences.
With the release of Cosmix, the past and the present become one through music. Greatly recovered from the massive stroke he suffered in 1997, Ram Dass welcomed the invitation by DJ Kriece to select key dialogue from his broad range of lectures to mix and share with a younger generation. Ram Dass -- a spiritual and cultural icon known for embracing and sharing Eastern teachings with the West and a contemporary of revolutionary thinkers Timothy Leary, Aldous Huxley and Allen Ginsberg - immediately connected with Kriece, a world-renowned Australian DJ and producer who has played alongside Sasha, John Digweed, Carl Cox, BT, Dave Seaman, H-foundation, Kevin Saunderson, Dave Clarke and Lee Burridge.
"This album represents a full circle for me," Ram Dass says. "In the '60s, when Tim Leary and I began exploring inner space with psychedelics, the music was always a groove that we could follow, a route to take us higher. Music was at the forefront of the expansion of consciousness and the counter culture. There was a group consciousness that evolved in some of the performances of the Grateful Dead, Jefferson Airplane, Jimi Hendrix and others, that was transcendent and brought a sense of unity and a feeling of deep love and joy. Later, when I made it to India, I was introduced to other music and sounds that vibrate with the cosmos, using it to get high. The music itself is the high and you just become it, like a surfer becoming one with the wave."
Cosmix is a rhythmic, energizing album that merges timeless wisdom with modern sounds, chants, and world instruments. Ram Dass' most relevant dialogue is mixed with moving, chilled back electronica perfect for yoga, meditation, or atmospheric entertainment. The music dominates without diminishing the power of Ram Dass' messages on tracks "Mantra," "Stuck," "The Game," "Additya Hridayam," and six others. The enhanced CD also contains a historic, heartwarming ten minute video excerpt from "The Last Dance," Ram Dass' final recorded conversation with his life-long friend, the late LSD guru, Timothy Leary, who encouraged Ram Dass to celebrate death as the next transitional stage on their journey.
Forest, managing director of Waveform Records, says, "Not since the late Terence McKenna's 'Alien Dreamtime' album in the early '90s, has enlightened spirituality flowed so well with contemporary chill-out and this time each track is separate, a manageable length and broadcast-friendly. For the most part, the music dominates, without diminishing the power of Ram Dass' messages. Without being overly preachy, Ram Dass' expressive words give new meaning and interest to this energized yet inspirational musical environment, while DJ Kriece's deftly selected grooves bring new life and focus to some universal and timeless spoken truths."
Today, Waveform announced a comprehensive campaign underway for the enhanced CD, including promotional outreach to College and specialty radio, with prominent airplay on the Ambient channel of ambient RadioIO.com, Musical Starstreams and XM Satellite Chill 84.
Internet marketing will include a YouTube.com "RamDassCosMIXes" video re-mix page, increased MySpace outreach, and music downloads at Amazon.com, iTunes, Rhapsody and Napster. The enhanced CD is distributed by Allegro, NewSound, Arabesque (U.K. & Europe), White Swan and others; KDM Promotions and SPECTRE Music handle radio promotion, while Bette Timm services New Age retailers with promotions geared to gift and bookstores.
Ram Dass, who has numerous books, videos, DVDs and tapes available in the marketplace, tells us, "This collaboration makes this blend of music and spirituality available to a new generation. Kriece has brought together the influences of World music, chanting, electronics and spoken word. I am honored he has used words I spoke, though it is only us talking to ourselves. This mixdown of mantra and electronica merges into One Love."
One can visit Ram Dass, Waveform Records and Kriece at their official websites, and on their respective pages at MySpace.com and YouTube.com.
Links:
waveformhq.com and myspace.com/waveformrecords
ramdass.org and myspace.com/ramdass
kriece.com and myspace.com/kriece
youtube.com/RamDassCosmixes
###