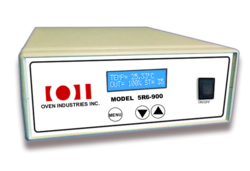 Revolutionary ramp and soak temperature controller
Mechanicsburg, PA (PRWEB) February 13, 2013
Oven Industries Inc. recently designed and developed new revolutionary ramp and soak temperature controllers. The 5R6-900 temperature controller has many benefits to the end user. The controller is contained all in one enclosure that is portable, will plug into the wall and can stand alone with its own power supply. This makes the unit very user-friendly.
The 5R6-900 ramp and soak temperature controllers are great for PCR reseach, science laboratories and any business that specializes in temperature control. The controller is PC programmable and easily connects to a computer through the RS232 communications port.
Oven Industries Inc. has been designing and manufacturing electronic temperature controllers and sensors since 1964. Along with being the industry leader in electronic temperature control, the company is also a full service electronic contract manufacturer. Oven Industries specializes in box build for sheet metal or plastic and capable of sourcing all components with complete test. PCB automated assembly, thermocouples, thermistors and in-house engineering design for both mechanical, electronic and software. Most of the work is private label applications.
Visit http://www.ovenind.com for more information or view a video about the product
http://www.youtube.com/watch?v=2N5UDaJ7kE8&feature=player_embedded