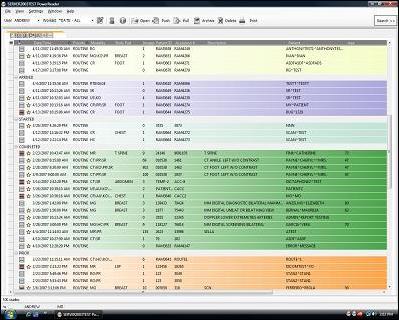 We have recently taken a radically different approach to product development
Toronto, ON (PRWEB) April 24, 2007
RamSoft announced today the release of PowerServer PACS version 4.3, an enterprise grade solution for effective image management. This is the first release under the company's new Customer Action Initiative (CAI), an internal program aimed at customer centric software improvement and development. RamSoft will demonstrate PowerServer PACS and RamSoft One RIS/PACS/Billing software at the SIIM 2007 conference, Booth #1210.
"We have recently taken a radically different approach to product development," said Vijay Ramanathan, President and CEO for RamSoft. "This is our first major release since, and has received a very warm reception from our clients. I am proud of our team -- they did a terrific job listening to, and addressing customer needs."
The new PowerServer release addresses a long list of product enhancements and feature requests commonly asked for by users. All enhancement and feature additions were made with great care to ensure zero productivity disruption and no user confusion.
"Our goal with this new release was to immediately improve user productivity, yet avoid the disruption and retraining associated with upgrades," said Michal Szabla, Vice President for RamSoft. "In order to accomplish that, we had to employ a user transparent design. It was challenging but was definitely worth the effort. Most of the new stuff just works and has no impact on the product's feel."
The following are chief amongst the new features:
Study Bookmarking
Reading physicians will no longer lose their study position when they close an unread study. Upon returning to the study, physicians will be able to pick up reading at the exact point they left off.
Study Linking
This new feature allows reading physicians to simultaneously compare images from studies across multiple medical records.
Smart Compare Mode
New smart logic allows RamSoft advanced hanging protocols to automatically choose the most relevant prior studies for image comparison.
New Hardware and Software Integration
RamSoft PowerServer is now fully integrated with Nuance's Dictaphone PowerScribe and a host of other products. Please refer to RamSoft's website for a complete list.
PowerServer PACS updates and upgrades are available at no additional charge to all clients who are under a support agreement. This customer focused approach ensures that users are always kept up-to-date with and get the requested enhancements as soon at they are available.
About RamSoft
RamSoft Inc has been developing software for the ambulatory and acute care marketplace since 1994. Their software development and professional services teams strive to exceed customer expectations.
###