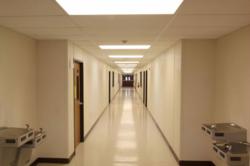 This will have a positive impact on our ability to assist public schools in the pre-planning stages of their facility requirements while providing them with a first-hand look at what we can be done using temporary and permanent modular construction
Mansfield, TX (PRWEB) January 31, 2013
Ramtech Building Systems of Mansfield, Texas has announced that the company has launched a new program targeted to public school districts to promote the use of multiple classroom type modular buildings for school additions and expansions. The initiative will provide an opportunity for educators to see and learn about Ramtech's classroom wing building designs that range in size from 4 to 16 classrooms and can be used in a wide variety of both temporary or long-term use requirements. In addition to a planned direct marketing campaign, the company will also host privately scheduled meetings where educators can meet with and explore Ramtech's capabilities through 'lunch and learn' sessions with the company's technical sales, engineering, and project management personnel. To help facilitate the program, Ramtech has installed a demonstration facility consisting of a fully finished standard floor plan six-classroom modular wing addition with restrooms that will be available for viewing. Ramtech plans to have the program in place and operational in February, 2013. "This will have a very positive impact on our ability to assist public schools in the pre-planning stages of their facility requirements" according to Gary White, Ramtech's vice-president of sales and estimating. "As a full service design-build modular construction company, we can provide them with a first-hand look at what we can be done using our approach to temporary and permanent modular buildings."
For over 30 years Ramtech has provided public, private, and faith-based schools throughout the Southwest with portable classroom buildings through an inventory program that typically keeps over 50 two-classroom modular buildings (both with and without restrooms) in inventory for immediate delivery. Available for sale or lease, this program has enabled Ramtech to become the largest supplier of portable classrooms in the Southwest. During 2012, Ramtech provided nearly 100 portable classroom buildings to public, private, and charter schools including school districts across Texas such as Lubbock ISD and Del Valle ISD. The primary advantages to two classroom modular buildings include little if any site preparation, and an easy relocate ability as a needs of the school district change. While multiple classroom buildings are not as easily relocated and often require more site development, they do provide the look and feel of permanent construction and are much faster and less expensive than actual site constructed school additions. They also can lead to a safer environment by allowing teachers and students to change classes while remaining in the same building for an entire school day. Individual classroom buildings can be designed and constructed to address requirements for computer and science labs, administrative offices, and specialty classrooms for all age groups. Exterior finishes can be as simple and low cost as steel siding, or as permanent looking as synthetic stucco or brick veneer paneling. The interior finishes are very similar to site constructed buildings including the use of T-grid ceilings, recessed lighting, vinyl covered sheetrock walls, and vinyl composition tile or carpeted floors. Custom multiple classroom buildings can also be designed, manufactured, and installed usually within a 90-120 day time frame depending on the site conditions and local permitting requirements.
About Ramtech Building Systems
Since 1982 Mansfield, Texas-based Ramtech Building Systems has been providing innovative modular buildings for government agencies, healthcare providers, Fortune 500 companies, and educational institutions throughout the Southern United States. As a design-build construction company, Ramtech offers full in-house design, a manufacturer direct product, and complete site construction services all within a single-source solution. By emphasizing a value engineering approach, Ramtech has successfully completed over 2,500 prefabricated buildings for diverse projects of all sizes. For more information, visit the company's website at ramtecheducation.com.