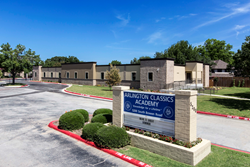 By using our traditional permanent modular construction approach, we were able to provide Arlington Classics with many upgrades at the best possible value while also completing the project in the fastest time possible
Mansfield, TX (PRWEB) July 21, 2014
Design-build construction firm Ramtech Building Systems has announced that the company has completed the construction of a new $1.2 million 10-classroom modular building wing addition for Arlington Classics Academy of Arlington, TX. Built using Ramtech's traditional permanent modular construction approach in order to maximize the cost savings and provide for a faster construction timeline, the 9,856 square foot modular school building will be fully operational in August and will accommodate additional 7th and 8th grade students at the Charter School's middle school campus.
The requirements for the new facility called for full site development including the permits, geotechnical and civil design, as well as landscaping, extension of the utilities, and integrating the fire alarm system with the existing structure. After evaluating three companies including one site contractor and another modular builder, Arlington Classics chose Ramtech's permanent modular construction approach using a two-step design-build contract approach. According to Gary White, Ramtech's vice-president of sales and estimating, "By using our traditional permanent modular construction approach, we were able to provide Arlington Classics with many upgrades at the best possible value while also completing the project in the fastest time possible." The Type V wood frame structure's exterior was designed to meet the city's masonry requirements and blend in with the school's existing structures. To achieve this Ramtech used a combination of Vintage colored Luxbrick, a manufactured thin brick veneer product, and an UltraCrete textured coating finish. The interior has vinyl covered gypsum wall covering and carpet in each of the nine classrooms and computer lab, along with vinyl composition tile floors in the hallway and restrooms. Heating and cooling are accommodated using 11 split system HVAC units zoned to provide individual temperature control to each classroom. The building also has a TPO rubber roof, along with a fire sprinkler system and security alarm with cameras.
The Arlington Classics Academy was founded by a group of parents in 1999 that wanted their children to experience an accelerated curriculum of Spanish, Art and Music from Kindergarten through the 6th grade while incorporating relatively small class sizes and a strict code of conduct that included uniforms. The School's stated goal is to develop students who are fully armed with all the tools western civilization offers, including a clear understanding of American culture and those that preceded it. Students from the Tarrant, Dallas, and Johnson county areas are eligible to attend, and over 1,000 students are currently enrolled at the School's two campuses.
About Ramtech Building Systems
Since 1982 Ramtech Building Systems has been providing innovative modular buildings for government agencies, healthcare providers, Fortune 500 companies, and educational institutions throughout the Southern United States. As a design-build construction company, Ramtech offers full in-house design, a manufacturer direct product, and complete site construction services all within a single-source solution. The Arlington Classics Academy project was designed and manufactured at Ramtech's Mansfield, TX headquarters, part of a 20-acre development located in the southern part of the Dallas-Fort Worth Metroplex. Structured as a vertically integrated design-build construction company, Ramtech provides space planning, design services, manufacturing, site construction and finish-out on every project they produce. The company maintains a consistent workforce of production workers and supervisory personnel with an average of 15 years experience, many with tenures over 25 years. This experience, coupled with Ramtech's approach to modular manufacturing and construction, allows for greater control at each step in the building process resulting in significant time and money savings for their clients. By emphasizing a value engineering approach, Ramtech has successfully completed over 3,000 diverse projects of all sizes. For more information, visit the company's website at http://www.ramtechmodular.com.