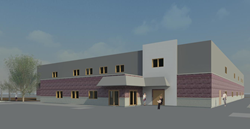 Randolph ISD immediately saw the speed, cost, and quality benefits of using our Accelerated Building System after reviewing the two permanent modular construction projects that we completed for Blue Ridge ISD
Mansfield, TX (PRWEB) July 23, 2015
Design-build construction firm Ramtech Building Systems of Mansfield, Texas has announced that the company has moved to the construction phase on a new $7.2 million high school building for the Randolph (TX) Independent School District. The two-stage design-build contract calls for Ramtech to provide complete turnkey services to the district including the site development, manufacturing, and installation for a 43,917 square foot two-story facility using the company's Accelerated Building System slab-on-grade permanent modular construction approach. The design of the structure will provide space for 23 classrooms, an eighth grade science center, two computer labs, two student commons, and an administrative area with a counseling suite and nurses station. The facility will also include four high school level labs for physics, biology, chemistry, and environmental science all situated around a common central preparation area. The building's exterior design calls for a combination of brick, split-face concrete block, and high profile architectural metal designed to complement the finishes of the existing campus. To make way for the new modular school building the school district demolished two existing structures which were removed during the spring of this year. Ramtech is scheduled to start the site mobilization process at the beginning of September, and will commence with the manufacturing of the modular building sections in October to accommodate a project completion by the end of May of next year.
The Randolph Field ISD serves the children of military personnel at Randolph Air Force Base, part of the Joint Base San Antonio System. It is one of three school districts in Texas whose boundaries all fall within a military installation, the others being Lackland AFB and Fort Sam Houston. According to Ramtech president Linc Moss, "Randolph ISD immediately saw the speed, cost, and quality benefits of using our Accelerated Building System after reviewing the two permanent modular construction projects that we completed for Blue Ridge ISD." Prior to awarding the design-build contract to Ramtech, the school district worked with Gallagher Construction to develop the district's master plan and to facilitate the RFP and contract negotiations for the modular building project.
About Ramtech and the Accelerated Building System
Since 1982 Ramtech Building Systems has been providing innovative permanent modular buildings for educational institutions, government agencies, healthcare providers, and Fortune 500 companies throughout the Southern United States. As a design-build construction company, Ramtech offers full in-house design, a manufacturer direct product, and complete site construction services all within a single-source solution. Ramtech's ABS process combines the best of off-site prefabrication and on-site construction techniques in order to produce a building faster and with less cost but identical in the look, functionality and life expectancy of a completely site-built structure. Ramtech accomplishes this by setting factory assembled modular sections complete with attached ceilings and walls - but no floors - directly onto a conventional concrete slab foundation. This allows the concrete slab to become the floor of the structure just like a site-built building. They will then site-apply all of the exterior and interior finishes, enabling them to provide their clients with a new facility faster and with less design and construction costs.