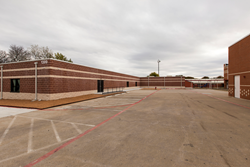 Melissa ISD saw that Ramtech's traditional permanent modular construction was the best approach for providing them with the quickest path to the kind of facility they wanted while staying within their budget
Mansfield, TX (PRWEB) December 21, 2015
Design-build construction firm Ramtech Building Systems of Mansfield, Texas is now featuring as part of their construction portfolio, a $1.5 million project the company recently completed for the Melissa (TX) Independent School District. Built using Ramtech's traditional wood-framed permanent modular construction approach, the 9,018 square foot eight-classroom facility is located in the middle school area of the District's combined campus. The parapet wall design incorporates a full masonry exterior which complements the look of the school's existing buildings while also providing screening of the roof mounted HVAC units. Ramtech constructed the building with a grade level appearance which allowed for sidewalks and a covered walkway leading to the adjacent structure. The interior of the facility includes commercial grade carpeting throughout the building, and each classroom incorporates a black painted accent wall for featuring student work and achievements. Ramtech was also responsible for all of the site work on the project including the extension and connection of the utilities. The manufacturing of the modular school building and site preparation began in late May and the project was finished in the early Fall.
Located 35 miles northeast of Dallas, the city of Melissa is located in the area of Collin County that has one of the fastest-growing and dynamic areas of North Texas. Serving students primarily living within the city of Melissa, the Melissa Independent School District has seen explosive growth with enrollment increasing by over 200 students in the last six months. According to Gary White, Ramtech's VP of Sales, "Melissa ISD saw that our traditional permanent modular construction was the best approach for providing them with the quickest path to the kind of facility they wanted while staying within their budget."
About Ramtech Building Systems
Since 1982 Mansfield, Texas-based Ramtech Building Systems has been providing innovative permanent modular construction and relocatable modular buildings for and educational institutions, government agencies, healthcare providers, and Fortune 500 companies throughout the Southern United States. As a design-build construction company, Ramtech offers full in-house design, a manufacturer direct product, and complete site construction services all within a single-source solution. By emphasizing a value engineering approach, Ramtech has successfully completed over 3,000 total projects of diverse sizes across multiple industries. Their school project portfolio includes both relocatable buildings and facilities built using permanent modular construction and the companies flagship Accelerated Building System prefabricated construction method. For more information, visit the company's website at RamtechEducation.com.