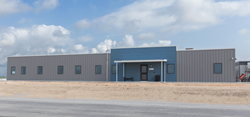 Mansfield, TX (PRWEB) September 15, 2016
Design-build commercial modular building firm Ramtech Building Systems of Mansfield, Texas has announced that the company has completed a 16,800 square foot permanent modular office building for Cameron LNG. The new facility is located at Cameron's liquefied natural gas terminal site along the Calcasieu Channel in Hackberry, Louisiana. The design-build project was built using Ramtech's Accelerated Building System (ABS) prefabricated construction method, a proprietary system which allows for the rapid installation of factory-built modules which are a fixed directly onto a conventional concrete slab foundation. The Type V-B blast resistant building features individual private offices that use a glass interior storefront partition system around the perimeter of the interior and a large L-shaped clear span office area for multiple cubicles. There are also two large training and conference rooms, and a separate crew room and locker storage area.
The design criteria required for the modular building to meet a 170 mph Exposure D wind load, Seismic Category A, and .54 psi Blast Overpressure rating placed a unique demand on the building's structural system including using O.S.B. sheathing installed on both sides of the six-inch exterior steel studs. The roof incorporates 2 x 10 wood framing and plywood sheathing supported by open web steel trusses that are attached to structural steel tube columns which were welded to 1" thick steel plates embedded and anchored into a 4,000 psi concrete slab foundation with reinforced grade beams. To accommodate the Gulf Coast areas high humidity while also accounting for the outside air intake requirements for the building's occupants, Ramtech installed Lennox roof mounted HVAC units. The buildings exterior is fully wrapped in standard R-Panel metal siding. Ramtech completed the $3.2 million project in 165 days.
About Ramtech and the Accelerated Building System
Since 1982 Ramtech Building Systems has been providing innovative permanent modular buildings for educational institutions, government agencies, healthcare providers, and Fortune 500 companies throughout the Southern United States. As a design-build construction company, Ramtech offers full in-house design, a manufacturer direct product, and complete site construction services all within a single-source solution. Ramtech's ABS process combines the best of off-site prefabrication and on-site construction techniques in order to produce a building faster and with less cost but identical in the look, functionality and life expectancy of a completely site-built structure. Ramtech accomplishes this by setting factory assembled modular sections complete with attached ceilings and walls - but no floors - directly onto a conventional concrete slab foundation. This allows the concrete slab to become the floor of the structure just like a site-built building. For more information, visit the company's website at http://www.ramtechmodular.com.