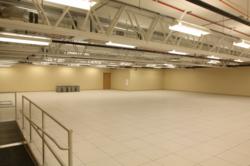 With an adjacent facility that operates 24/7 in a high security environment, using the Accelerated Building System allowed us to perform much of the work off-site, enabling us to compress the construction schedule and eliminate disruptions and shutdowns
Mansfield, TX (PRWEB) May 03, 2011
The Directorate of Information Management (DOIM) at Fort Bliss, TX recently began their final preparations prior to occupancy on the third in a series of permanent modular buildings developed and built by design-build construction firm Ramtech Building Systems of Mansfield, Texas. Located on the main cantonment of the sprawling Fort Bliss military base in El Paso, the new 15,000 square foot building addition replaces the original base Data Center and Server Rooms built in the 1960's. Constructed utilizing Ramtech's Accelerated Building System slab-on-grade construction method, the new single-story facility has a painted concrete masonry exterior with no windows in order to meet the Mission Critical Security requirements as the 'nerve center' of the base. The project was completed within the parameters of the DOIM's heightened security requirements, and without any disruptions or shutdowns to their 24/7 operating requirements. In addition to the new building, Ramtech's contract also called for the complete interior renovation of an adjacent 5,400 square foot building in the same data center complex. As with two previous prefabricated buildings constructed for Fort Bliss, the facility was developed and built as part of Ramtech's indefinite-delivery indefinite-quantity (IDIQ) contract with design team partner Luckett & Farley of Louisville, KY providing the architectural services for the $6.5 million project.
Developed by Ramtech, the Accelerated Building System utilizes the best of onsite and offsite construction by combining the speed and efficiency of prefabricated buildings with the quality and appearance of site applied interior and exterior finishes. Ramtech achieves this by employing simultaneous construction tracts. At the same time a site specific, engineered reinforced concrete slab foundation is constructed on the building site, the fabrication of the modular buildings are taking place in Ramtech's manufacturing plant. When complete, the building sections are shipped to the project location, crane-set onto the concrete slab, then quickly weathered-in and finished-out on site. This form of design-build construction results in a superior facility with lower design and construction costs, a faster project completion schedule, and superior quality over older site construction methods. "With an adjacent facility that operates 24/7 in a high security environment, using the Accelerated Building System allowed us to perform much of the work off-site" states Gary White, Ramtech's vice president of sales and estimating, "enabling us to compress the construction schedule and eliminate any disruptions or shutdowns."
Faced with the challenge of acquiring permanent facilities "faster, better, cheaper, and greener," in 2005 the Army Corps of Engineers embarked on a master planning program to change the way it executed MILCON and BCA programs. Frustrated at not getting quality facilities in the timeframe it needed them, the Corps established a continuous building program that emphasized the standardization of facilities and processes while expanding the use of prefabricated buildings including permanent modular buildings. With their IDIQ award, Ramtech became the first design-build construction company in the commercial modular industry to receive a prime contract under the Army's Modular Force Construction Program. The company participated in many public and private meetings with the Corps in order to convince them that the Accelerated Building System approach provided a viable alternative to conventional stick-built methods.
Because the DOIM building houses U.S. combat troops, using the Accelerated Building System allowed Ramtech to meet the Army's rigid anti-terrorism construction standards. In addition to a six inch, 4,000 psi concrete slab foundation, the building also includes blast doors and a building envelope encapsulation in the event of a chemical or biological attack. To comply with the latest federal executive orders on energy management, the building was designed to conserve energy by reducing the power consumption requirements established in ASHRAE 90.1 by at least 30%. To accomplish this, Ramtech utilized two high efficiency Trane self-contained roof-top units providing 47.5 tons of conditioned air to feed 18 variable air volume boxes. The units feature variable frequency drives and multi-stage compressors that are controlled by a Trane digital controls system that is connected to a base-wide Energy Management Control System (EMCS) utilizing an open implementation of the LON operating system. Over 4,500 square feet of raised access flooring was installed in the building to both accommodate the data wiring and 79 Dell Server Racks which are cooled by a dedicated 50-ton liquid cooled chiller with back-up.
About Ramtech Building Systems
Since 1982 Mansfield, Texas-based Ramtech Building Systems has been providing innovative permanent modular buildings for government agencies, healthcare providers, Fortune 500 companies, and educational institutions throughout the Southern United States. As a design-build construction company, Ramtech offers full in-house design, a manufacturer direct product, and complete site construction services all within a single-source solution. By emphasizing a value engineering approach, Ramtech has successfully completed over 2,500 prefabricated buildings for diverse projects of all sizes. For more information, visit the company's website at http://www.ramtechgroup.com.
###