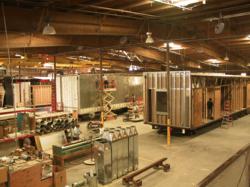 Many charter schools need to be able to finance their facilities using leasing options, so modular construction becomes the perfect vehicle to get these projects financed while also meeting their start date requirements
Mansfield, TX (PRWEB) May 20, 2011
Ramtech Building Systems has announced that the company has secured a new charter school contract for the design, fabrication, and construction of three 7,424 square foot eight-classroom modular buildings to be delivered and installed in the Dallas, Texas area prior to the start of the 2011-2012 academic school year. This is the company's sixth charter school project since the beginning of the year, and brings the total square footage under development for all charter school projects to over 56,000 square feet. The new modular buildings, which include two offices along with the individual classrooms, will be built utilizing Ramtech's traditional modular construction approach. The buildings will each incorporate nine wall-mounted HVAC units zoned for energy efficient heating and cooling, a factory installed 26-gauge R-panel metal siding for the exterior, and VCG walls and carpet flooring on the interior.
The new modular buildings are based upon Ramtech's standard floor plan designs that have been used by educational institutions since the company began manufacturing its own products in 1984. The Dallas project also adds to Ramtech's growing resume of charter school clients, which in 2011 alone also includes projects in the other major metropolitan areas of Austin, Houston, and San Antonio. These projects include a mix of Ramtech's industry standard portable classrooms, restroom facilities and toilet trailers, and cafeteria and other multipurpose buildings. The use of modular and portable buildings have been instrumental in the growth of charter schools by allowing them to quickly meet their charter requirements while providing for a means of financing that would not be available by developing permanent construction projects. According to Gary White, Ramtech's vice president of sales and estimating, "many of the charter schools need to be able to finance their facilities as personal property to be able to take advantage of various leasing options, so modular construction becomes the perfect vehicle to get these projects financed while also meeting their start date requirements."
The growth of charter schools has exploded around the country as the slow transformation of public education continues to take place. Beginning in 1995, a revision to the Texas education code established a new type of public school known as the charter school. Their purpose was to improve student learning, increase choice, establish a new form of accountability, and encourage new and innovative learning techniques. Like other states with strong charter school support, the growth in Texas has steadily increased since their introduction. There are now 215 available open-enrollment charters available in Texas, along with an unlimited number of campus charters available to universities and independent school districts. To date, there are 558 charter school campuses that are now in operation, serving over 165,000 students.
Production on all of the modular buildings for the six charter school projects will take place at Ramtech's Mansfield, Texas manufacturing facility. Located on 20 acres in the southern part of the Dallas-Fort Worth Metroplex, Ramtech has convenient access to the major transportation arteries that serve cities throughout the Southwest. Structured as a vertically integrated design-build construction company, Ramtech provides space planning, design services, manufacturing, site construction and finish-out on every project they produce. The company maintains a consistent workforce of production personnel and supervisory staff that have an average of 13 years experience, many with tenures over 20 years. This experience, coupled with Ramtech's approach to modular manufacturing and construction, allows for greater control at each step in the building process resulting in significant time and money savings for their clients.
About Ramtech Building Systems
Since 1982 Mansfield, Texas-based Ramtech Building Systems has been providing innovative modular buildings for government agencies, healthcare providers, Fortune 500 companies, and educational institutions throughout the Southern United States. As a design-build construction company, Ramtech offers full in-house design, a manufacturer direct product, and complete site construction services all within a single-source solution. By emphasizing a value engineering approach, Ramtech has successfully completed over 2,500 prefabricated buildings for diverse projects of all sizes. For more information, visit the company's website at http://www.ramtechgroup.com.
###