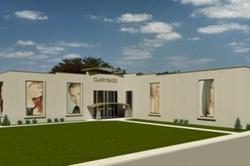 Clary Sage was looking at design and construction costs in excess of $215 per square foot. By using the Accelerated Building System, we were able to reduce the entire construction budget by over 33 percent
Mansfield, TX (PRWEB) June 21, 2011
Design-build construction firm Ramtech Building Systems of Mansfield, Texas has announced that they have completed work on a 19,270 square foot two-story permanent modular building addition for Clary Sage College, one of the nation's largest vocational schools of its kind located in Tulsa, Oklahoma.
After a careful review of several different construction alternatives and contractors, Clary Sage opted for the lower cost and faster timetable of Ramtech's Accelerated Building System approach. Having been at capacity for over two years, the addition increases the overall size of the college by 60% and enables the school to offer new degree programs in fashion and interior design as well as providing for badly needed space for their existing curriculum. Using a design-build stipulated sum contract, the Type II non-combustible structure adds twelve 800 to 1,000 square foot vocational classrooms including computer, interior design, and fashion design labs, as well as administrative offices, a commercial display area, student union and break room. In addition to a high impact back-drained EIFS synthetic stucco system for the exterior, all of the interior and exterior finishes were designed to provide a seamless transition from the existing four-year old structure to the new addition including stained concrete floors on the first floor and architectural grade Centiva vinyl flooring on the second floor. The project also integrates data, communication, and alarm systems as well as a mechanical and lighting system designed to accommodate the schools energy management system.
Developed by Ramtech, the Accelerated Building System utilizes the best of onsite and offsite construction by combining the speed and efficiency of prefabricated buildings with the quality and appearance of site applied interior and exterior finishes. Ramtech achieves this by employing simultaneous construction tracts. At the same time a site specific, engineered reinforced concrete slab foundation is constructed on the building site, the fabrication of the modular buildings are taking place in Ramtech's manufacturing plant. When complete, the building sections are shipped to the project location, crane-set onto the concrete slab, then quickly weathered-in and finished-out on site. This form of design-build construction results in a superior facility with lower design and construction costs, a faster project completion schedule, and superior quality over older site construction methods. According to Gary White, Ramtech's vice-president of sales and estimating, "When Clary Sage started the discussions on the addition with their previous contactor, they were looking at design and construction costs in excess of $215 per square foot. By using our Accelerated Building System, we were able to reduce the entire construction budget by over 33 percent."
Founded in 1982, Clary Sage College is a licensed and accredited cosmetology college and one of the largest schools of its kind in the United States. Managed by the same ownership as Community Care College and Oklahoma Technical College, Clary Sage offers various degree-granting programs in cosmetology, esthetics, nail technician and massage therapy. As a degree-granting institution, Clary Sage students are eligible to earn an Associates of Occupational Science degree by taking additional courses at the main campus, Community Care College
About Ramtech Building Systems
Since 1982 Mansfield, Texas-based Ramtech Building Systems has been providing innovative permanent and relocatable modular buildings for educational institutions, government agencies, healthcare providers, and commercial and industrial companies throughout the Southern United States. As a design-build construction company, Ramtech offers full in-house design, a manufacturer direct product, and complete site construction services all within a single-source solution. By emphasizing a value engineering approach, Ramtech has successfully completed over 2,500 projects for a wide variety of diverse applications of all sizes. For more information, visit the company's website at http://www.ramtechgroup.com.
###