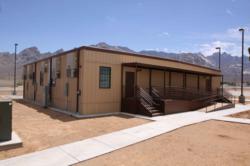 Ramtech has an extensive track record of using modular construction at military bases and sensitive areas on federal reservations. This gave CF Jordan Construction the confidence to leave the design and development of the modular building to us.
Mansfield, TX (PRWEB) July 19, 2011
Ramtech Building Systems, Mansfield, TX has announced that the company has completed work on a new 4,320 square foot modular building located at White Sands Missile Range in New Mexico. The new prefabricated building will provide for office and engineering space to support the final system integration and flight test activities for the Multinational MEADS Air Defense Program. Performed as a design-build construction project for El Paso-based CF Jordan Construction with design input from Jacobs Engineering, the facility was installed on a heavily reinforced nine-inch concrete slab foundation designed to withstand any ground movement from testing activity in and around the surrounding area. To help achieve this stability, Ramtech eschewed the basic haydite blocks typically used for most modular building foundations in favor of attaching the structure to 24 x 24 plinths comprised of steel reinforced fully-mortared block piers connected to the concrete slab with #6 dowels and #3 horizontal ties. Built to meet Anti-Terrorism/Force Protection compliance, the building incorporates vandal resistant security bars over the windows with fragment retention film on the windowpanes. The exterior utilizes a factory applied 26-gauge hi-ribbed R-panel steel siding together with a TPO membrane single-ply roof. The building incorporates five Bard Wall-Mounted HVAC units zoned within the building layout for the heating and cooling of 17 offices, a large conference room, data room, and break room. The interior is finished out with VCG walls and carpet tile flooring in the main areas, and static dissipative vinyl composition tile for the data room.
Constructed at Ramtech's manufacturing plant, the new facility is part of CF Jordan's primary contract at White Sands for the refurbishment and renovation of a series of existing office structures and the development of a missile assembly building. The modular building, installed adjacent to the existing complex, will be used by Italian, German, and American contractors connected with the NATO-managed Medium Extended Air Defense System (MEADS) project, a multinational joint venture comprised of MBDA in Italy, LFK in Germany, and Lockheed Martin. Originally conceived in the mid-1990's, the $4.2 billion program is a ground-based Air and Missile Defense System that will incorporate the hit-to-kill PAC-3 MSE missile in a system that includes 360-degree surveillance and fire control sensors, netted-distributed battle management/communication centers, and high-firepower launchers. The system will combine superior battlefield protection with extensive flexibility, allowing it to protect maneuver forces and critical assets against tactical ballistic missiles, cruise missiles, unmanned aerial vehicles, and aircraft. MEADS would replace existing Patriot missile systems in the United States and Germany, and the Nike Hercules system in Italy. The United States funds 58 percent of the MEADS program, while Germany and Italy provide 25 percent and 17 percent respectively as partners in the NATO Medium Extended Air Defense System Management Organization (NAMEADSMO). Beginning in the fall of 2011, technicians from the three countries involved in the project will begin to occupy the new facility to oversee two intercept flight tests scheduled to be completed by 2014. The full deployment of the system is expected to begin in 2018.
Founded in 1969, CF Jordan specializes in commercial, multifamily residential, infrastructure, and civil construction through their offices in each of Texas' major metropolitan areas. When the company first approached Ramtech about the project, they quickly realized that Ramtech's vertically integrated design-build construction approach to prefabricated buildings would best meet their needs. According to Gary White, Ramtech's vice president of sales and estimating, "Ramtech has an extensive track record of using modular construction at military bases and sensitive areas on federal reservations. This gave CF Jordan the confidence to concentrate on their renovation and remodeling of the existing facilities while we handled the design and development of the modular building."
Located on 20 acres in the southern part of the Dallas-Fort Worth Metroplex, Ramtech has convenient access to the major transportation arteries that serve cities throughout the Southwest. Structured as a vertically integrated design-build construction company, Ramtech provides space planning, design services, manufacturing, site construction and finish-out on every project they produce. The company maintains a consistent workforce of production workers and supervisory personnel with an average of 13 years experience, many with tenures over 20 years. This experience, coupled with Ramtech's approach to modular manufacturing and construction, allows for greater control at each step in the building process resulting in significant time and money savings for their clients.
About Ramtech Building Systems
Since 1982 Mansfield, Texas-based Ramtech Building Systems has been providing innovative modular buildings for government agencies, healthcare providers, Fortune 500 companies, and educational institutions throughout the Southern United States. As a design-build construction company, Ramtech offers full in-house design, a manufacturer direct product, and complete site construction services all within a single-source solution. By emphasizing a value engineering approach, Ramtech has successfully completed over 2,500 prefabricated buildings for diverse projects of all sizes. For more information, visit the company's website at http://www.ramtechgroup.com.
# # #