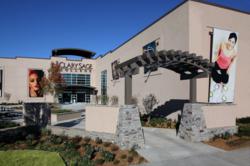 Schools in Oklahoma have been particularly responsive to the ABS approach given its ability to significantly reduce design and construction costs while also minimizing the disruption to daily school activities because of the faster construction timetable
Mansfield, TX (PRWEB) November 04, 2011
With the extensive exterior landscape work now complete at the site of a two-story addition completed by Ramtech Building Systems for Clary Sage College in Tulsa, the Mansfield, Texas-based design-build construction firm recently went back to the northern Oklahoma area to survey the performance of this and two other projects that were built using their award-winning Accelerated Building System permanent modular construction approach. All three of the company's past projects were documented on separate videos which will be released on the company's Modular Building Channel on YouTube during November of this year.
Over the last two years, the school districts in Oilton and Glencoe along with Clary Sage College have all expanded their existing campuses using Ramtech's Accelerated Building System. Developed by Ramtech, the Accelerated Building System utilizes the best of onsite and offsite construction by combining the speed and efficiency of prefabricated buildings with the quality and appearance of site applied interior and exterior finishes. Ramtech achieves this by employing simultaneous construction tracts. At the same time a site specific, engineered reinforced concrete slab foundation is constructed on the building site, the fabrication of the modular building is taking place in Ramtech's manufacturing plant. When complete, the building sections are shipped to the project location, crane-set onto the concrete slab, then quickly weathered-in and finished-out on site. This form of design-build construction results in a superior facility with lower overall design and construction costs, a 25 to 40% time savings in the total project schedule, and a higher level of quality and safety than projects that are 100% site built. According to Gary White, Ramtech's vice-president of sales and estimating, "Schools in Oklahoma have been particularly responsive to our ABS approach given its ability to significantly reduce the design and construction costs while also minimizing the disruption to daily school activities because of the faster construction timetable."
For Clary Sage College, an accredited cosmetology college and one of the largest schools of its kind in the United States, Ramtech completed a 19,270 square foot two-story permanent modular building addition which increased the overall size of the school by 60%. Using a design-build stipulated sum contract, the Type II non-combustible structure added twelve 800 to 1,000 square foot vocational classrooms including computer, interior design, and fashion design labs, as well as administrative offices, a commercial display area, student union, and break room. For the Oilton and Glencoe Public Schools located west of Tulsa, the Texas BuyBoard cooperative purchasing network was used by both school districts to purchase Ramtech's standard floorplan permanent classroom wing designs. In Oilton's case they were faced with having to tear down and replace an aging elementary school. Using the ABS method Ramtech provided a 15,232 square foot 16 classroom building modified to incorporate a library, computer lab, nurse's office, faculty lounge, and classrooms. After seeing the success that Oilton had, Glencoe replaced their existing elementary school with a 6,272 square foot six classroom facility designed to match their existing campus structures. With the success and proven advantages of the Accelerated Building System for single and multi-story applications, Ramtech will be expanding its marketing efforts to Oklahoma schools by combining its ABS approach with steel building systems and other forms of site construction. This hybrid construction approach will help meet the demand for larger more diverse projects including those requiring spans beyond 80 feet, heavy internal structural loading, the ability to meet certain types of fire ratings, and large eve heights with more architecturally diverse exterior elevations.
About Ramtech Building Systems
Since 1982 Mansfield, Texas-based Ramtech Building Systems has been providing innovative permanent and relocatable modular buildings for educational institutions, government agencies, healthcare providers, and commercial and industrial companies throughout the Southern United States. As a design-build construction company, Ramtech offers full in-house design, a manufacturer direct product, and complete site construction services all within a single-source solution. By emphasizing a value engineering approach, Ramtech has successfully completed over 2,500 projects for a wide variety of diverse applications of all sizes. For more information, visit the company's website at http://www.ramtechgroup.com.
###