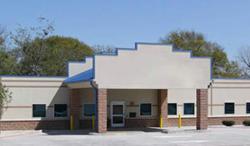 Ramtech's primary goal was to present each center with the most accurate and conservative building estimates possible so that a new facility can be built within the anticipated established cost
Mansfield, TX (PRWEB) December 20, 2011
With the federal government's renewed emphasis on providing funding for medical building construction, Design-build contractor Ramtech Building Systems of Mansfield, Texas recently had the opportunity to work with several Federally Qualified Healthcare Centers in developing the required information to complete grant applications for new medical facilities using modular buildings. To start the process, Ramtech met with each of the centers to discuss their specific plans for what they needed in a new building. Following these meetings the personnel were asked to complete Ramtech's Space Planning Summary outlining the types and number of spaces they required. These included waiting rooms and reception areas, exam rooms, behavioral health offices, dental operatories, labs, conference rooms and public meeting areas, administrative offices, as well as other support areas. Once all of the facility areas were clearly defined, a square footage was determined using a combination of the center's layout choice and the typical design standards that would apply based on the activity and anticipated number of occupants in each area of the clinic.
"Throughout the entire process Ramtech's primary goal was to present each center with the most accurate and conservative cost estimates possible," according to Gary White, Ramtech's vice-president of sales and estimating. "Then in the event that a grant is received, they will have a comfort level that their new facility can be built within the anticipated established cost."
With the information gained from the Space Planning Summary, Ramtech's in-house design team developed an initial schematic floor plan for each provider to review in order to submit comments and changes. By working this way during the revision process, Ramtech was able to develop workable plans that were representative of each center's desires and needs. Once the review stage was complete, a floor plan and summary of the desired features including the interior and exterior finishes were passed to Ramtech's estimating department to determine the anticipated price of the proposed project. These estimates included all costs for designing, permitting, and manufacturing of the modular building as well as the expenses associated with the full development of the anticipated site. Once the plans and cost estimates were completed, a comprehensive proposal was developed which included the estimated cost for a turn-key project, a summary of the services to be provided by Ramtech, and an outline specification describing the proposed materials, building systems, and method of construction.
Ramtech Building Systems is able to provide both temporary and permanent facilities utilizing different modular building techniques. For permanent buildings, Ramtech's Accelerated Building System utilizes the best of onsite and offsite construction by combining the speed and efficiency of prefabricated buildings with the quality and appearance of site applied interior and exterior finishes. This is achieved by employing simultaneous construction tracts. At the same time a site specific, engineered reinforced concrete slab foundation is constructed on the building site, the fabrication of the modular building is taking place in Ramtech's manufacturing plant. When complete, the building sections are shipped to the project location, crane-set onto the concrete slab, then quickly weathered-in and finished-out on site. This form of design-build construction results in a superior facility with lower overall design and construction costs, a 25 to 40% time savings in the total project schedule, and higher level of quality and safety than projects that are 100% site built.
About Ramtech Building Systems
Since 1982 Mansfield, Texas-based Ramtech Building Systems has been providing innovative permanent facilities and relocatable modular buildings for educational institutions, government agencies, healthcare providers, and commercial and industrial companies throughout the Southern United States. As a design-build construction company, Ramtech offers full in-house design, a manufacturer direct product, and complete site construction services all within a single-source solution. By emphasizing a value engineering approach, Ramtech has successfully completed over 2,500 projects for a wide variety of diverse applications of all sizes. For more information, visit the company's website at ramtechgroup.com.
###