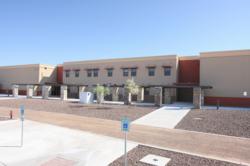 With our design, manufacturing, and construction experience, Ramtech has the assets and skills required to work anywhere in a lead role or as a key joint venture partner with 8(a) and other types of Disadvantaged Business Enterprises.
Mansfield, TX (PRWEB) March 28, 2012
Design-build commercial modular construction firm Ramtech Building Systems has announced the launch of a new initiative to promote and expand the company's long-term emphasis on developing teaming and partnering arrangements for pursuing public sector temporary and permanent building projects utilizing modular buildings. The program will focus on developing key joint venture relationships with 8(a) Business Development, Service Disabled Veteran-Owned Small Businesses, and other types of small and Disadvantaged Business Enterprises (DBE) that are looking for a partner who can provide strategic guidance and assistance in reducing costs and facilitating fast track project implementation through the use of Ramtech's highly developed modular construction process. Ramtech also brings to their partners the added dimension of excelling at working in rural or remote locations where experienced design-build contractors are generally not available or are incapable of pursuing complex projects. The company can also provide the financial resources and a solid aggregate bonding capacity to assist their joint venture partners in pursuing work that they would not be able to perform on their own.
The ability to successfully manage all aspects of a construction project, particularly in today's environment, requires a partnership where every team member contributes their expertise and approach at the highest level possible. For years Ramtech Building Systems has worked to develop these kinds of relationships with architects, small disadvantaged businesses, and other types of strategic partners to aid in the pursuit, development, and execution of specific construction requirements and opportunities. These include contracts in both the private and public sectors with a heavy emphasis on projects that occur within the various departments of the federal government and those run by the U.S. Army Corps of Engineers. These include temporary and permanent modular building requirements that have ranged in size from $250,000 to over $50 million, including administrative office space, military and workforce housing units, sophisticated data centers, modular medical clinics and healthcare facilities, modular school buildings, and other types of special use facilities. While most are in the Southwestern United States, Ramtech has completed projects from California to Maryland and in overseas locations like the U. S. Virgin Islands. According to Gary White, Ramtech's vice-president of sales and estimating, "as a design-build general contractor with design, manufacturing, and construction experience, Ramtech has all the assets and skills required to work anywhere in a lead role or as a key joint venture partner with 8(a) and other types of Disadvantaged Business Enterprises."
All of the modular buildings built for Ramtech's modular construction projects are designed and manufactured at the company's Mansfield, TX manufacturing facility, part of a 20 acre development located in the southern section of the Dallas-Fort Worth Metroplex. The company has convenient access to the major transportation arteries that serve cities throughout Texas and the entire Southwest. Structured as a vertically integrated design-build construction company, Ramtech can provide space planning, design services, manufacturing, site construction and finish-out services for small and large scale projects. The company maintains a consistent workforce of production workers and supervisory personnel with the longest average tenures in the commercial modular building industry. This experience, coupled with Ramtech's approach to modular manufacturing and construction, allows for greater control at each step in the building process resulting in significant time and money savings for their clients.
About Ramtech Building Systems
Since 1982 Mansfield, Texas-based Ramtech Building Systems has been providing innovative modular buildings for government agencies, healthcare providers, Fortune 500 companies, and educational institutions throughout the Southern United States. As a design-build construction company, Ramtech offers full in-house design, a manufacturer direct product, and complete site construction services all within a single-source solution. By emphasizing a value engineering approach, Ramtech has successfully completed over 2,500 prefabricated buildings for diverse projects of all sizes. For more information, visit the company's website at http://www.ramtechgroup.com.