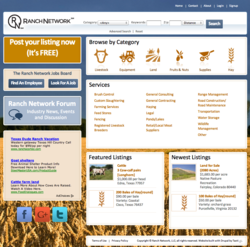 Austin, TX and Durham, NC (PRWEB) July 24, 2012
RanchNetwork.com launches today with the mission to improve efficiency and profitability for today's livestock industry through the Web. The website provides an online marketplace and messaging forum through which individuals can list items for sale, search for jobs, or discuss industry news and trends. Registration is free for all users, and listings can be searched quickly by geography, category or keyword.
"At a time of increasingly tight margins in the livestock industry, producers, vendors and service providers need new ways to market their products and transact business," according to Jesse Womack III, founding partner of Ranch Network and a fifth-generation rancher from McFaddin in Victoria County, Texas. "I came up in this industry learning the tried-and-true methods that really do work, and I recognize the potential for new solutions to dramatically improve the way we do business. RanchNetwork.com is a simple, one-stop-shop designed specifically for the needs of this market."
RanchNetwork.com invites listings in the following categories: livestock, equipment, land, fruits & nuts, supplies and hay. Service providers can appear in a directory ranging from brush control and fencing to water storage and local retail meat suppliers. Event listings, industry insights and topical discussions can be found in the discussion board section of the site.
"As a member of the Texas agriculture community, I think Ranch Network will play a very important role in improving efficiency as well as saving money for producers," says Jeff Nelson, Jr., 2002 graduate of Texas Christian University Ranch Management program, whose family owns and operates a cattle ranch in Meridian, Texas.
RanchNetwork.com is available nationwide. A series of launch events are planned throughout Southeast Texas in August, with additional regional events planned for Fall 2012.
About Ranch Network, LLC
Ranch Network seeks to connect livestock producers, managers, employees, vendors, and service providers to create an open community dedicated to increasing profitability and efficiency. Through the RanchNetwork.com website, agriculture professionals can buy, sell, hire, advertise, and discuss current issues, directly with peers and prospects, fifty or five hundred miles away.
Founded by Jesse Y. Womack III and Ed Lipkins, Ranch Network, LLC has offices in Durham, NC and Austin, TX. Visit http://www.RanchNetwork.com to learn more. Connect with Ranch Network on Facebook http://www.facebook.com/RanchNetwork or Twitter http://twitter.com/RanchNetwork