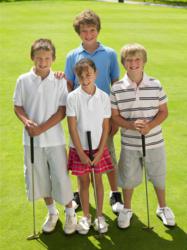 Junior golfers are essential to the game of golf and we want to welcome this important group of golfers and their families by providing a fun and affordable way to get involved.
Lancaster, California (PRWEB) August 13, 2012
Rancho Sierra Golf Course partners with the SCGA Foundation Youth On Course program by creating affordable access to the course for youth by establishing discounted green and range fees during off-peak hours.
Youth on Course participants enjoy $4 green fees after 12pm Monday through Saturday as well as $2 driving range access anytime Monday, Tuesday, Thursday and Friday. To become a Youth on Course participant, applicants must complete a series of online quizzes that include golf rules, etiquette and Life Skills.
The golf experience at Rancho Sierra Golf Course is fun and inviting for the beginner golfer. The course features an unintimidating 9-hole layout with the introduction of a few water obstacles and plays to 2,814 yards from the forward tees. Every round presents a new opportunity to improve your game and challenge your technique within a friendly and welcoming environment.
For more information on Youth on Course please visit scga.org/yoc. For tee times and course information, please call 661.946.1080 or visit ranchosierragolf.com.
About Rancho Sierra Golf Course
Rancho Sierra Golf Course is a 9-hole public golf course and driving range located in Lancaster, California in the Mojave Desert. The 2,450 yards, par 35 course features large, mature trees, three lakes, and several creeks. The Club offers full tournament planning and membership opportunities. For more information call 661.946.1080 or visit ranchosierragolf.com
About Western Golf Properties
As problem solvers and reputation builders, Western Golf Properties has been at the forefront of developing and managing top golf facilities. Their experience working with more than 100 of the country's most elite Clubs provides the Corporate team with great insight into smart business practices and operational efficiencies which result in quality conditioning, exceptional guest service and desired financial goals. For more information, please visit wgolfp.com or call 949.417.3251.
# # #