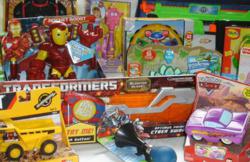 Help make this holiday season bright for a family or child in need with a small donation
Lancaster, CA (PRWEB) November 13, 2012
Celebrate the season of generosity and warmth with Rancho Sierra Golf Course. Rancho Sierra will be hosting Toys for Tots donation collection as well as a canned food drive.
Toys for Tots Foundation accepts donations of new, unwrapped toys to benefit less fortunate children in our communities. The importance of our country's children and their health and well-being is immeasurable, and Rancho Sierra is proud to support Toys for Tots in its mission to make all of our children from all walks of life feel special and loved this holiday season.
Rancho Sierra is now accepting donations of new, unwrapped toys valued at $10 or more. As a personal "thank you" to donors, Rancho Sierra will offer 25% off of Golf Shop purchases, and a complimentary fountain soda.
In addition to the Toys for Tots collection, Rancho Sierra will host a canned food drive benefitting Grace Resource Center. Food items will be directly donated to the Lancaster Community Shelter bringing relief to families in need. Donate and receive a free basket of range balls and a complimentary fountain soda.
For more information about Rancho Sierra Golf Course please visit ranchosierragolf.com or call 661.946.1080.
About Rancho Sierra Golf Course
Rancho Sierra Golf Course is a 9-hole public golf course and driving range located in Lancaster, California in the Mojave Desert. The 2,450 yards, par 35 course features large, mature trees, three lakes, and several creeks. The Club offers full tournament planning and membership opportunities. For more information call 661.946.1080 or visit ranchosierragolf.com
About Western Golf Properties
As problem solvers and reputation builders, Western Golf Properties has been at the forefront of developing and managing top golf facilities. Their experience working with more than 100 of the country's most elite Clubs provides the Corporate team with great insight into smart business practices and operational efficiencies which result in quality conditioning, exceptional guest service and desired financial goals. For more information, please visit wgolfp.com or call 949.417.3251.
# # #