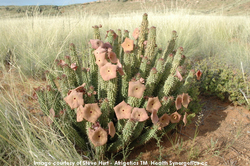 With so many adulterated Hoodia products in the market, Alkemists is providing a desperately needed service to identify those Hoodia products that can be trusted to contain what's promised on the bottle
Costa Mesa, CA (PRWEB) October 22, 2007
Alkemists Pharmaceuticals, of Costa Mesa, California, an independent quality control and natural ingredient testing laboratory, announced today that their random spot checking of seven brands of weight-loss supplements containing the natural ingredient Hoodia, found no adulteration or contamination.
Herbal product and dietary supplement's natural ingredients must be properly authenticated and characterized in order to ensure reproducibility in the manufacturing process. Misidentification of the collected plant and corruption of purity of the raw materials can easily occur when other species or contaminates find their way mixed into the ingredients. Extraneous ingredients such as starch, maltodextrin, sawdust, chemicals, other botanicals, and even mycotoxins and deadly allergens, have found their way into products in the past, causing potentially significant health risks.
Alkemists Pharmaceuticals conducts their Premium Partner Random Analysis quarterly for companies that have volunteered for inclusion. Utilizing their Analytical Triad Analysis, Alkemists conducts tests whereby systematic identification and detection of botanicals & their marker compounds are evaluated for quality control. The most updated and sophisticated combination of technologies are employed, including Digital Photo-Microscopy (DPM), High Performance Thin-Layer Chromatography (HPTLC) and/or High Performance Liquid Chromatography (HPLC).
Although natural ingredient testing seems fairly straightforward, analyzing individual components of a finished product manufactured within a complex matrix of food based materials it is no simple task. Highly complex materials, such as botanicals, vary significantly by influences of season, growing conditions, location and age. In addition, influencers like shelf-life of manufactured products introduce ingredient degradation possibilities. Not only must the core ingredients be tested and considered, but how additional influencers may react, corrupt or negate the desired therapeutic effects must be evaluated as well.
"I am happy to report positive news about Hoodia supplements again. As the Hoodia industry emerges from the wake of previous challenges, information of this sort is invaluable," stated Elan Sudberg, Chief Operations Officer and Lab Manager of Alkemists Pharmaceuticals. "The voluntary random testing program enables companies, whose products are ready to be scrutinized under the microscope, both literally and figuratively, to showcase their quality. Third party certification of ingredient purity shows consumers that the products that are purchasing come from a company who has a commitment to quality and performance, and the confidence to go the extra distance to prove it. These companies are leading the way in this industry and are differentiating themselves in the marketplace by their voluntary participation in this program. They are raising the bar by providing the extra assurance needed to garner trust and confidence in the purity of natural ingredients that end up in the bodies of their friends, their neighbors and their loved ones. "
"With so many adulterated Hoodia products in the market, Alkemists is providing a desperately needed service to identify those Hoodia products that can be trusted to contain what's promised on the bottle," said Mike Adams, a consumer health advocate and independent journalist at newstarget.com. "Knowing which Hoodia products can be trusted means that consumers now have several trusted brands to choose from. Genuine Hoodia is a valuable plant-based supplement for appetite control, but counterfeit Hoodia is simply a waste of money. Now consumers can tell the difference between the two."
The Hoodia products tested by Alkemists are the following brands and lot numbers:
Brand Name: Lot#
Hoodoba: 0162K6
Desert Burn: 41311
Hoodia Products: 1003
HoodiThin: 7M16
HoodiTrim: 7F13
HoodiSpray: 7M04
Natural Health Certified Hoodia: 0217
The public can obtain the results of the finished products analysis at the Alkemists website: http://alkemist.com/random_analysis.htm by then entering the specific lot number.
About Alkemists Pharmaceuticals
For the past decade, Alkemists Pharmaceuticals, an independent quality control laboratory, has focused on the Dietary Supplement Industry's self regulation and has emerged as the natural choice for independent, third-party analysis, as well as a reliable technical and quality control partner for companies producing dietary supplements. With over 800 species of botanicals analyzed and an in-house herbarium containing 6000 botanical specimens, enabling multiple species cross-referencing, Alkemists has become the 'go to' lab for independent, third-party natural product analysis and random testing analysis and certification.
###