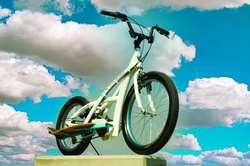 The stepper bike gives me the best workout I have ever had in my life. After 15 minutes on the bike my whole body felt like jello. Rick Orlando, Fl
Miami beach, FL (PRWEB) November 1, 2008
Bored at the gym? Tired of same workout routine? A Runners Dream Come True! Imagine an elliptical, stationary, and road bike all in one. The Randy Ross Stepper Bike is the newest total body fitness machine and the latest trend to keep fit and energized, all while having fun outside. The same workout that's as fast as a bike but with the same muscular and cardiovascular workout as running AND without the pounding and abuse on your body! It doesn't get any better! The Randy Ross Stepper is the perfect fitness equipment used to shape and give you the figure, strength, and endurance you have always wanted for an exceptional healthy overall life and workout regimen. Everything you need to stay fit and strong! This total body fitness machine is the latest trend and will give you the workout of your life! You will feel rejuvenated, a "true full-body fitness regimen". The greatest fitness breakthrough of all time is the newest innovation that has just hit the market.
The Stepper has 8 speeds and is extremely forgiving on the knees and back. It can accommodate both low impact exercise or an intense workout -- as 30 minutes on The Stepper is equivalent to a 4-5 hours bike ride. Between the resistance and balancing without a seat, your body will never be in better shape and you will feel more rejuvenated than ever. This state-of-the-art workout machine is great-looking, cool and definitely a conversation piece. There's even a version for kids and teens! Shaquille O'Neal, Phil McConkey and Marc Bavaro are just a few of the professional athletes already using and training with The Stepper. Even rick from Florida wrote "The stepper bike gives me the best workout I have ever had in my life. After 15 minutes on the bike my whole body felt like jello. Rick Orlando, Fl".
Ross Bikes, a family business since 1947, has always been on the cutting edge of fitness and a leader in the bicycle industry. In fact, Ross developed the first mountain bike in 1981 and sponsored the first international mountain bike race in the world -- and we all know how that sport exploded! Ross anticipates that The Stepper will be the "new" sport and utilized in racing, as well. The product line offers something for the entire family, with five models available.
To test ride a stepper bike in your local area. Randy Ross Stepper Bike locations
For more info on these bikes visit Randy Ross Stepper Bike or call (305) 695-4124‎.
# # #