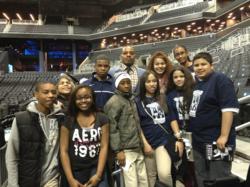 "At the end of the day we want (the kids) to understand that with hard work, with a little bit of effort, with a little bit of sacrifice, you can do anything," Foye said.
Newark, NJ (PRWEB) December 28, 2012
The Randy Foye Foundation's "Season of Giving" featured several events focused on making the holidays bright for families in NBA guard Randy Foye's hometown of Newark, NJ. Foye, a seven year NBA veteran currently with the Utah Jazz, formed his 501c3 nonprofit organization after his rookie year, intent on using his example to show kids that with hard work and the right attitude, anything is possible.
On Saturday, December 15th, Christmas Tree Santas, Inc., a volunteer-run 501c3 nonprofit organization based in Newburyport, Massachusetts, hosted their first Christmas tree giveaway in New Jersey in conjunction with the Randy Foye Foundation (RFF). The Santas came down to Newark with 150 Christmas trees that were given to families in the school community at Dr. William H. Horton Elementary School. Each family also received a tree stand, ornaments, stocking filled with toys for kids and help securing their tree to their car. Christmas Tree Santas, Inc. has a simple mission: spreading hope and joy during the holidays by giving Christmas trees to families in need.
"With Hurricane Sandy causing so much devastation so close to the holidays, we knew we had to try and bring some Christmas cheer to our neighbors in New Jersey," said Alex Gramling, founder of the Christmas Tree Santas. "Ours is a small gesture, but one that we hope will make the season more joyful for some families that are struggling to get by."
RFF also hosted its "Holiday Hoopla" toy drive and celebration for kids at Dr. E. Alma Flagg School, which is the elementary school Foye attended. This year the foundation received a helping hand from radio station Hot 97, who collected presents and also sent DJs to the school to host this year's party. Along with the Hot 97 Street Team, DJ Wallah, DJ Drewski and DJ Kev White donated their time and had the kids rocking to all their favorite songs at the holiday party.
In addition to snacks, games and arts & crafts, each student received a book courtesy of Bridge of Books Foundation (Red Bank, NJ). For the fourth consecutive year, RFF guaranteed that every student at the school received a wrapped present from Santa. After the student celebrations ended, members of the Flagg school family joined together for a special catered meal. The dinner, sponsored by RFF, brought together families, staff and friends to celebrate the spirit of the holiday season.
On Tuesday, December 18th, students in RFF's Assist 4 Life program were treated to a special night at the Utah Jazz vs. Brooklyn Nets game at the Barclays Center. The group of hardworking teens got to meet members of the Utah Jazz before the game, received autographs, high-fived the Jazz as they ran onto the court and stood in front of the team during the national anthem.
"Giving back is important to me, especially at this time of year," Foye said. "I'm just blessed to be in the position that I'm in. I'm living proof that if you believe in yourself and work hard, good things can happen."
To view photo galleries from these events and more, visit randyfoye.org