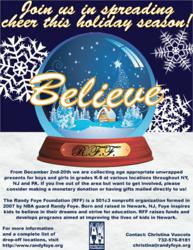 "For me, it's all about helping kids," said Foye. "I walked the same difficult path that they are facing now. I want to encourage kids to achieve their full potential and let them know that someone believes in them and wants to see them succeed."
Newark, NJ (PRWEB) December 01, 2011
NBA guard Randy Foye, who was born and raised in Newark, NJ, has teamed up with Dr. Jays, Ray Catena Auto Group and Villanova University for his foundation's annual holiday toy drive. A special kickoff event will be held on Friday, December 2nd at the Dr. Jays store located at 138 Market Street in downtown Newark. Donations will be accepted at all 3 Dr. Jays stores in Newark, which also includes locations at 146 Market Street and 795 Broad Street, as well as all 14 Ray Catena dealerships in New York and New Jersey, and upcoming Villanova University men's basketball contests on December 3rd and December 13th.
The toy drive will run through December 20th. All proceeds benefit children throughout the city of Newark. Requested are age-appropriate, unwrapped presents for boys and girls in grades K-8. Since 2008, the Randy Foye Foundation (RFF) has provided holiday presents to Newark youth and hopes to continue building on the previous years' success.
Foye is no stranger to giving back to the Newark community where he was born and raised. Earlier this month, RFF provided 157 winter coats to city kids and complete Thanksgiving meals to 60 families. In September, RFF's Back to School Success Program provided 1,000 Newark kids with a brand new backpack and educational supplies on the first day of school. Foye has shared his life story with thousands of students, encouraging them that "education is the key to anything you want to do in life."
In addition to his Assist 4 Life mentoring program in city elementary schools, Foye has provided athletic uniforms and equipment to many youth sports programs throughout the city. He ran his annual basketball camps and hosted a semi-pro basketball league in his old neighborhood this summer. RFF also partners with the Children's Hospital of New Jersey at Newark Beth Israel Medical Center to host a 5k at Branch Brook Park in the spring.
"For me, it's all about helping kids," said Foye. "I walked the same difficult path that they are facing now. I want to encourage kids to achieve their full potential and let them know that someone believes in them and wants to see them succeed. Around the holidays, it's especially important for me to give back and help put a smile on someone else's face."
The Randy Foye Foundation is a 501c3 nonprofit organization formed in 2007 that raises funds and develops programs aimed at improving the lives of kids in Newark. For more information and a complete list of toy drive drop-off locations, visit http://www.randyfoye.org. If you aren't in the area but want to donate, presents can be mailed to:
Dr. Jays – Attention: Toy Drive
138 Market Street
Newark, NJ 07102
Twitter: @drjaysstores, @Ray_Catena, @randyfoye, @RFoyeFoundation
Event Hashtag: #RFFToyDrive
###