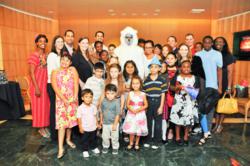 I am a big supporter of both the Houston Symphony and Big Brothers/Big Sisters, so when the opportunity arose to give back to both groups simultaneously, I was thrilled.
Houston, TX (PRWEB) November 16, 2012
As an avid supporter of their local community, Rand Group regularly identifies opportunities to engage with organizations that work to enrich the lives of others in the Houston, Texas area. As part of their ongoing initiative, Rand Group underwrote the first of a series of very special annual events at the Houston Symphony called The Family Concert Series. Rand Group went on to provide the Big Brothers/Big Sisters of Greater Houston with 38 tickets to the concert.
The Family Concert Series is a yearly event put on by the Houston Symphony to help engage children in the culture and music that the symphony offers. Each event is designed around a kid centered theme, the first of which was "Wands and Batons". Set to the music of Harry Potter, the conductor cast a spell over the entire audience, delighting adults and children alike. Kids were invited to wear their own costumes, and the conductor revealed a surprise costume of his own to the entire group, including to the orchestra itself!
As a thank-you for their support in underwriting the event, Rand Group was given a bundle of tickets to attend, which they elected to donate. Matching the tickets they received in an effort to further their commitment to the community, Rand Group provided a group of children and their mentors from Big Brothers/Big Sisters the opportunity of a lifetime to attend such a wonderful event. In addition, several Rand Group employees volunteered their time that Saturday morning to help the Houston Symphony with various parts of the event facilitation. It was a wonderful and memorable experience for all involved.
"We don't just talk about community involvement here at Rand Group, we actually get involved. I am a big supporter of both the Houston Symphony and Big Brothers/Big Sisters, so when the opportunity arose to give back to both groups simultaneously, I was thrilled. I've enjoyed concerts at the Symphony for years, and I truly felt the children and mentors from Big Brothers/Big Sisters would share in my passion for culture and music. The Family Concert Series is a great way to get children involved, and if we helped enrich the lives of a few local children then we've met our goal. I attended the event myself, along with some staff who volunteered and I can truly say it was a great day," says Ron Rand, President & CEO of Rand Group.
Ron has a strong commitment to serving as a business leader in the community and continues to fulfill this role. He is an active participant and supporter of the Houston Humane Society, Big Brothers/Big Sisters of Houston, public television station HoustonPBS (KUHT), Houston Public Radio (KUHF), Houston Symphony Orchestra, Alley Theatre, and the Houston Zoo. As part of his dedication, he leads Rand Group in finding new and impactful ways to give back to the community.
About Rand Group, LLC
Rand Group is a professional services firm that serves the oil and gas, manufacturing, distribution, and construction segments within the state of Texas. Rand Group combines the business acumen of CPAs and industry specialists with the technology expertise of software developers and process improvement specialists to drive real business results utilizing technology. Consistently the fastest growing application partner in the US domestic market, Rand Group has built a reputation of making systems work for business.
For more information please visit http://www.randgroup.com.