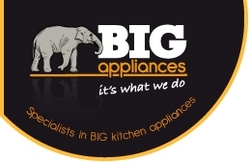 (PRWeb UK) June 14, 2010
Essex based white goods supplier Big Appliances is bringing a whole new way of sourcing and buying quality kitchen appliances to the UK market. Unlike most suppliers of range cookers, American fridge freezers and other imported white goods, Big Appliances has moved away from the traditional "hidden extras" model of appliance supply: where a customer is expected (sometimes unknowingly) to sign up to a magazine subscription as part of the unit price. While other importers of Belling cookers, Maytag fridge freezers and the other big American names include a minimum 12 month subscription to a famous consumer magazine in their prices – effectively a hidden contract, buried in the tag price of the unit – Big Appliances have committed themselves to delivering honest deals at affordable prices.
Big Appliances has risen quickly in the ranks of customer trust. From its inception in 1964, through incorporation in 1984, the company traded as a small family-run business: values it still holds. Now, though, the international nature of its market has made it a player in a league where duplicitous contracting seems to be the norm. With its refreshing philosophy of supplying range cookers and American fridge freezers at prices calculated only on the actual cost of the object, rather than extra detail like unasked-for magazine subscription, Big Appliances is finding itself increasingly chosen as the preferred customer supplier for the items.
The whole way that Big Appliances does business is refreshing. There's no cold calling, no call centre (so no anonymous voice interrupting dinner with a request to talk about offers on Maytag fridge freezers or Belling cookers and no pressure. The business might be big now, like the appliances it sells – but the ethos is small. Treat customers with the friendliness and respect they'd expect from a small family business, and they'll come back, which they do.
Kitchen Appliances retailer Big Appliances is selling more American fridge freezers and range cookers as each week passes. That's due in equal parts to its honest way of conducting business, and the lengths to which the company is going to cover costs for its customers. Free UK delivery on all items sounds like a standard fillip until you realise that these items are American fridge freezers, range cookers – items like Belling cookers and May Tag fridge freezers: which, frankly, are enormous. Offering free mainland UK delivery on objects of this size and weight represents a significant investment by the company in saving money for its customers. And that represents a significant likelihood of return business and recommendation.
Big Appliances haven't just dispensed with unnecessary charges and hidden invoicing – they've managed to bring a whole new level of high street style service to international freight delivery. If any customer orders a combination of American fridge freezers and range cookers that they think won't go together – in terms of style or function – they will get in touch with that customer and offer them alternatives. Now that's real customer service.
Big Appliances are an Essex based supplier of white goods. Their huge range of stock is available online at http://www.bigappliances.co.uk.
# # #