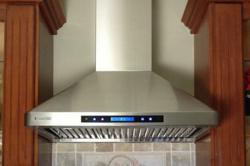 Even the best range hoods on the market don't do any good if they're never turned on, and the noisier the fan, the less likely it is to get turned on.
(PRWEB) May 19, 2013
HomeThangs.com – the Online Home Improvement Store has made their goal to deliver the right product to the consumer. With that in mind, shopping and home design tips, as well as special product selections are being introduced.
With newer kitchens trending more and more toward professional grade cooking appliances – especially large gas ranges – it's more important than ever to have proper ventilation. Ducted range hoods improve indoor air quality, keep kitchens cleaner, and even help lower heating and cooling costs. Not all range hoods are created equal. To help the consumers pick the right one, HomeThangs.com introduced a guide to highlight a few distinct features shared by the best rangehoods.
1. Ducted Ventilation
The best range hoods are ducted range hoods that vent outside. A good kitchen ventilation system will pull heat, smoke, steam, and grease away from the cooktop and vent it outdoors, keeping it from ever escaping into the kitchen in the first place rather than filtering and recirculating hot, smelly, greasy air. Where installing new duct work is impossible or prohibitively expensive, as in an island installation, high quality ductless range hoods with multi-stage filters are the next best thing. Ductless range hoods can minimize odors, airborne toxins, and grease, but won't reduce moisture or heat the way a traditional ducted one will.
2. Baffle Filters
Traditional aluminum mesh filters are notorious for becoming clogged with grease and being almost impossible to clean. Each manufacturer has their own way of trying to combat this, from centrifugal blowers to the increasingly popular baffle filter. Baffle filters are commonly found in industrial kitchens, but are becoming quite popular in home design. These thick bands of stainless steel cover the underside of the range hood and are much easier to clean (they pull out in one or two piece and can be washed in the dishwasher), and collect grease more efficiently, keeping it from building up in the ducts, which are even more difficult to clean.
3. High CFM
For maximum efficiency, the power of a range hood should be matched to the surface area of the range it's covering at a rate of about 50 CFM per square foot of cooktop, or about 300 CFM for a 36″ range. Of course, for higher heat and smoky, smelly, steamy cooking, more power means better ventilation.Typically the range hood should be about the same size as the kitchen range, but a slightly wider range hood gives better coverage and a more professional culinary look.
4. Digital Controls
Historically, range hoods have had analog controls – a simple on/off or hi-low-off switch or a power level dial. But digital controls are becoming much more common, and allow greater control over the performance of the range hood. Digital controls allow for a greater range of power levels, as well as other unique features, like a smoke-detecting auto-on, timed auto-off, and filter clean reminder in addition to the more conventional timer and clock. Some digital controls are button based, while newer models incorporate a touch screen, but should be both easy to use and intuitive to understand.
5. Noise Levels
Even the best range hoods on the market don't do any good if they're never turned on, and the noisier the fan, the less likely it is to get turned on. Many range hood fans operate at just slightly higher than the normal level of human speech, meaning it's impossible to hold a conversation at a normal level while it's on. Many manufacturers have their pet solutions for this problem (some of which work better than others), like sealing off the motor, using multiple smaller motors, or simply improving the overall quality and thickness to help dampen sound.
6. Built In Lights
Range hoods are an important source of task lighting in the kitchen, casting bright light directly on the cooking surface. But newer designs are also aesthetically pleasing, providing light that's attractive as well as functional. Especially in an island installation, decorative range hoods can function as island lights or even chandeliers, with a beautiful decorative appearance rather than the stereotypical big metal box. Range hoods should use standard bulbs that are easy to access and easily replaced, to ensure the light lasts for the life of the range hood.
For more information read a full version of "XtremeAir Range Hoods – Professional Quality Ventilation For A Home Kitchen"
HomeThangs.com is more than just a Home Improvement Superstore. They're constantly seeking to provide homeowners and designers with the right products at competitive prices. With a wide selection of products, expert design tips, and comprehensive shopping guides, Homethangs is a company that's there at all stages of the design process, from idea to execution. It's their goal is to make dream remodels doable.