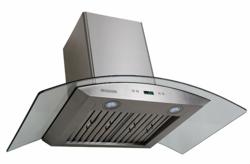 XtremeAir wall mount hoods, like model PX01-W30, are built with top quality materials
Aiken, SC (PRWEB) December 20, 2012
These range hoods are not only powerful, super quiet, durable, and more reliable than any other range hoods on the market, but also affordably priced.
XtremeAir wall mount hoods, like model PX01-W30, are built with top quality materials such as super thick 1.0 mm /19 gauge non-magnetic commercial stainless steel, seamless body construction, stainless steel oil tunnel with oil container, squirrel cage blower, sealed motor, sealed LCD control panel, LED energy light system, 900-1200 CFM; more than powerful enough for heavy duty, professional style cooking equipment.
The stainless steel body is complemented by 8.0 mm canopy temper glass design. This model is offered in two sizes – PX01-W30-30in. width and model PX01-W36 – 36in. width.
All range hoods use stainless steel, dishwasher safe baffle filters.
Many experts in the residential kitchen ventilation system business recommend using stainless steel baffle type filters, rather than the standard aluminum mesh filters and louvered frame. There are several benefits to using the stainless steel baffle type of filter. Baffles are evenly spaced pieces of metal that will direct the airflow as it is drawn into the vent hood. One of the main benefits to the baffle type of filter is that grease vapors can pass through more easily. They will cause the grease vapors to swirl around as they are drawn through, and the grease will eventually settle onto the stainless steel baffles. Because of the heat that is generated from the cook top, the grease vapors that settle onto the baffles will form grease that will drip through the filter frame and not get trapped in the duct work or exhaust fans. This helps to lessen the amount of cleaning required in the ductwork.
Another benefit to using stainless steel baffle filters over aluminum mesh filters in models like PX04-W36 is that stainless steel has a higher heat rating. These filters are less likely to be damaged by high heat, which is important in kitchens using certain high temperature cooking appliances, such as grills and fryers. Aluminum filters are rated to handle temperatures from 200 to 450 degrees Fahrenheit, while stainless steel baffles can handle temperatures up to 900 degrees.
XtremeAir is one of few brands that offer 10 (ten) years motor limited warranty.
All XtremeAir kitchen range hoods are available at Warehouse USA – http://warehouse-usa.com; they are on sale with free shipping throughout 48 contiguous states. For more technical information or if in doubt please don't hesitate to call 888-693-8066.