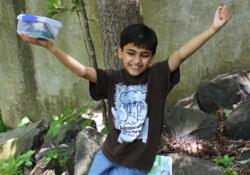 Ranger Rick is a natural fit for geocaching and, together, we'll help get more families outside, having fun together while learning to protect nature.
Reston, VA (PRWEB) June 29, 2011
National Wildlife Federation (NWF) is launching Ranger Rick's Geocache Trails, a fun outdoor adventure for kids and their families. To establish trails in numerous communities throughout the country, NWF is looking for more parks, nature centers, and other outdoor recreational sites to serve as trail hosts in their area. Ranger Rick's trails marry GPS-enabled treasure hunting, or geocaching, with a wildlife-themed game featuring Ranger Rick and his pals from the award-winning children's magazine published by National Wildlife Federation.
"Ranger Rick's Geocache Trails combines 'screen time with green time' in a fun, interactive way that encourages learning about nature and wildlife." said Meri-Margaret Deoudes, Vice President of Corporate Relations and Special Events for NWF. "Kids today spend less time outdoors than any previous generation and we wanted to give outdoor facilities a way to get more children outside experiencing the physical and emotional benefits of the great outdoors. Geocaching was the perfect fit."
Especially for families with kids from 6-14, Ranger Rick's Geocache Trails can live in parks, nature centers, aquariums, zoos, beaches, public gardens, nature trails, campgrounds and any outdoor facility across the country. Trail packages of three, five, or eight caches are available for purchase from NWF, with a three trail package starting at $75. Each trail package delivers a turn-key program with geocache boxes, log books, paw print stamps, Ranger Rick trading items, and a game to enhance the adventure.Hosts hide Ranger Rick's Geocaches on their sites and upload the GPS coordinates to the website.
Here's how Ranger Rick's Geocache Trails work:
Families start their adventure online at http://www.geocaching.com/rangerricktrails to find a nearby trail and print the downloadable passport game sheet. Each geocache will have its own page online with information about the location and terrain, clues to help you find the treasure and coordinates for downloading onto a GPS unit or Smartphone.
Then it's time to hit the trail and start the search. Along the way, families will actively observe and connect with their natural surroundings, stimulating kid's imaginations and curiosity while keeping them moving.
When families find a Ranger Rick's geocache and shout "Eureka", they will sign a log book found inside the cache. Using the cache's clue card and stamp they will guess which of Ranger Rick's pals had been there and stamp their passport with the answer. Each geocache contains a different clue card and paw print stamp featuring Ranger Rick or one of his pals.
Like other geocaching programs, trading is central to the experience. Before moving on, families can take a treasure from the box and replace it with something of their own. The first geocachers to locate a cache might find a pair of kid's binoculars, or a flashlight. Then it's time to hit the trail again in search of more geocaches.
Once back home, geocachers go online to check passport answers at RangerRickTrails.com and learn more about Ranger Rick's pals. Kids can also share stories about their adventure with other geocachers who found the cache at http://www.geocaching.com.
"There is such a sense of excitement when you find your first (or fourteenth) geocache," said Deoudes. "The response we've seen from locations hosting trails and families that have gone on our geocaching adventure have been overwhelmingly positive."
To bring geocaching to more communities NWF has partnered with Groundspeak, the creators of geocaching.com, along with SeaWorld, Busch Gardens, and Nickelodeon. Special geocaches can be found in select locations featuring Ranger Rick and Shamu or a special trading item from Nickelodeon.
"We are pleased to partner with NWF on this exciting new educational geocaching program," said Bryan Roth, Co-Founder of Groundspeak. "Ranger Rick is a natural fit for geocaching and, together, we'll help get more families outside, having fun together while learning to protect nature. "
To learn more or become a trail host, visit http://www.rangerricktrails.com. To learn more about geocaching, visit http://www.geocaching.com.
National Wildlife Federation is America's conservation organization inspiring people to protect wildlife for our children's future. Ranger Rick's Geocache Trails is the newest addition to NWF's Be Out There movement connecting families to the outdoors to raise happier, healthier children with a life-long love of nature. Kids today spend twice as much time indoors as their parents did, missing out on the simple pleasures and lasting mental and physical health benefits of daily outdoor time. NWF's practical tools for families, schools and communities will make being outside a fun, healthy and automatic part of everyday life for American families.
Groundspeak Inc. owns and operates geocaching.com - the global headquarters for Geocaching. Geocaching.com serves over 5 million active participants in over 200 countries and provides access to over 1.4 million active geocache listings worldwide. Groundspeak's mission is to inspire outdoor play through location based technologies and Groundspeak continues to develop tools to help GPS enthusiasts create and share unique adventures in the real world. Learn more at http://www.groundspeak.com.
Media Contact: Mary Burnette, Burnette(at)nwf(dot)org, 703-438-6097
###