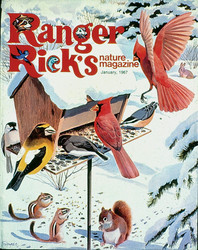 Ranger Rick, a nature education magazine, has been published by National Wildlife Federation since 1967 (www.nwf.org/kids)
Reston, Va. (Vocus) June 17, 2010
National Wildlife Federation's Ranger Rick magazine received the Association of Educational Publishers (AEP) award this month for best United States children's publication in the K-5 age category.
Ranger Rick, a nature education magazine, has been published by National Wildlife Federation since January 1967. The publication was also a top four finalist this year for the 2010 Golden Lamp award—the gold-standard for educational periodicals of all age groups.
The AEP's annual Distinguished Achievement Awards (DAA) recognize the year's top educational products in four categories: Curriculum, Periodicals, Professional Development, and Technology & New Media.
Ranger Rick (for ages 7-12) and National Wildlife Federation's two other children's publications, Your Big Backyard (ages 4-7) and Wild Animal Baby (ages 2-4), took home a total of eight awards for outstanding content, design, photography and art.
"Every issue is packed with world-class wildlife photos and amazing animal stories that provide an intimate view into the world of wildlife," said Mary Dalheim, Editorial Director of National Wildlife Federation Children's Publications. "Our young readers tell us they love the magazine—that they hold onto their issues for years and flip through the pages until they are ragged."
To find out more about Ranger Rick and its sister publications, visit http://www.nwf.org/kids.
Visit http://www.aepweb.org to learn more about the Association of Educational Publishers.
National Wildlife Federation is America's conservation organization, inspiring Americans to protect wildlife for our children's future. http://www.nwf.org.
Contact: Amanda Cooke at 703-438-6041 or cookea(at)nwf(dot)org.
###