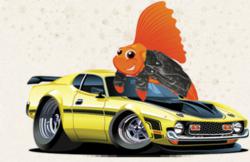 I think that any true baseball fan is going to be pumped for Hamilton tonight.
Baltimore, MD (PRWEB) May 09, 2012
RoadFish.com men's lifestyle and finance magazine today applauded Josh Hamilton on his monumental achievement, hitting a whopping four home runs in one game during the Rangers' game against the Orioles last night in Baltimore making him only the 16th major league baseball player to ever do so. Though there were only 11,263 fans at the stadium last night, Hamilton's performance is sure to excite fans and spark an upswing in ticket sales for the Rangers.
CBS News reported that Hamilton is only the 16th professional baseball player to hit four home runs during the course of one game. Before last night, Hamilton had never hit more than two homers in a game, but he went on to hit a whopping four home runs as well as a two-run hit. Orioles pitcher Darren O'Day threw the pitch that turned into Hamilton's history-making home run in the eight inning. Hamilton was described as looking very calm as he approached the plate for his at-bat. He is quoted as saying, "I just went up like it was any other at-bat because if I don't hit one, I've still had a really good night."
Cliff Corcoran of Sports Illustrated proposed that Hamilton's four-home-run night topped the charts, explaining that Hamilton's feat of being 5-for-5 at the plate and then hitting a double in addition to his four homers could be considered one of the best single-game hitting performances of MLB history.
RoadFish.com's Senior staff writer is quoted saying last night, "I think that any true baseball fan is going to be pumped for Hamilton tonight. To see an athlete have this sort of personal and professional victory is just awesome. I imagine he's gotta be just on top of the world, and he should. He's worked very hard to be where he is today."
The last time a major league baseball player hit four home runs in one game was in 2003, a feat performed by Carlos Delgado of the Toronto Blue Jays against Tampa Bay. Corcoran points out that not only did Hamilton make home run history, but in terms of bases rounded, he comes in second in major league baseball history. Last night, with Hamilton's double and his four homers, he hit a total of 18 bases. Only one man, Shawn Green of the New York Dodgers, has ever hit for more total bases than Hamilton, and that was with 19 bases in 2002.
In the above-mentioned CBS News article, Hamilton is quoted as saying about his accomplishment, "Obviously it's, other than being in the World Series, the highlight of my big-league career. I was saying after I hit two I've never hit three in a game before, and what a blessing that was. Then to hit four is just an awesome feeling, to see how excited my teammates got. It reminds you of when you're in Little League and a little kid, and just the excitement and why we play the game. Things like that. You never know what can happen. It was just an absolute blessing." Hamilton is in the final year of his contract with the Rangers and could become a free agent at the end of the season. He is currently leading the American League with 14 home runs and 36 RBIs. After last night's historical hitting performance, Hamilton now boasts a batting average of .406.
About RoadFish
RoadFish.com is an online men's lifestyle and finance magazine targeted toward men in their 30s and 40s that have already attained a moderate level of success in life, and are striving toward more. It goes over current events of interest to this group, such things as exciting adventures, making money, consumer interests, hot chicks and current politics as well as ways to make more and save more money. It is a publication owned by Purpose Inc.