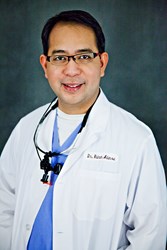 At Adarve Prosthodontics, we continuously provide education to our affiliate partners. As specialist practice in prosthodontics, we want to be the leader in providing the most current and up to date information in our area of specialty.
Apple Valley, MN (PRWEB) June 29, 2013
Dr. Ranier M. Adarve, a specialist in the field of prosthodontics has always been committed to support the education and advancement of his colleagues in the area of prosthodontics. As educator in prosthodontics himself, he believes that knowledge empowers the practitioners and enhances their skills. And ultimately, benefits the patients they treat.
"At Adarve Prosthodontics, we continuously provide education to our affiliate partners. As specialist practice in prosthodontics, we want to be the leader in providing the most current and up to date information in our area of specialty."
For Summer 2013, Dr. Ranier M. Adarve releases a Prosthodontics Newsletter™ that covers recent articles related to the treatment of edentulism. Inside this issue are the following topics:
-Muscle Activity with Implant-Supported All-on-Four Fixed Dentures
-Implant-Bone Load Transfer with Implant-Supported Fixed Dentures
-Complete Denture Occlusion
-Outcomes of Edentulism Treatment
To request a copy, please feel free to email us at info(at)adarveprosthodontics(dot)com or visit our website at http://www.adarveprosthodontics.com