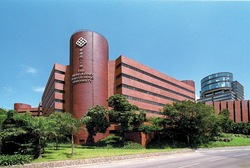 Hong Kong (PRWeb UK) September 9, 2010
The Hong Kong Polytechnic University (PolyU) has made a great leap forward in the latest "QS World University Ranking". This year the University has jumped by 29 places and is now ranked in the 166th place in the league table, as compared to 195th place in 2009.
PolyU President Professor Timothy W. Tong was delighted with the great improvement in ranking. He said, "This owes much to the hard work and commitment of the entire PolyU community. It also demonstrates that our efforts in providing quality education over the years are deservedly recognized. With the new management team fully in place, we are getting ready to turn a new chapter for PolyU. We will make the best use of the opportunities made available by the upcoming four-year undergraduate programme and further the development of our application-oriented research in order to cope with the society's need for talents and knowledge, as well as enhance PolyU's status in the world higher education stage."
Within the sub-category of "QS World University Ranking", PolyU is doing even better. In the Subject Ranking by Engineering and Technology, PolyU has jumped from the 91st place to the 70th place over the year. PolyU also fared well in Arts and Humanities as well as Social Sciences and Management. It was rated for two consecutive years as among the world's top 200 universities in both disciplines.
PolyU also has outstanding achievements in other league tables in recent years. According to the Academic Ranking of World Universities 2010 announced by the Shanghai Jiao Tong University in August this year, PolyU was ranked among top 100 universities in the world in terms of its academic and research performance in the field of Engineering/Technology and Computer Sciences, and in the subjects of computer science and mathematics.
Press contact: Ms Tracy Ng, Director of Communications and Public Affairs
Telephone: (852) 2766 5100
Email: patracy(at)polyu.edu(dot)hk
###