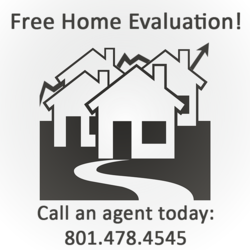 If you are not sure what your home value is or maybe in the past you found out you were underwater on your mortgage, talk to an agent today.
Salt Lake, UT (PRWEB) April 16, 2013
It has been a slow but steady rebound for the Utah housing market and this year is unraveling high hopes of a strong return by the end of the 2013. Climbing home values throughout the spring have sparked a surge in refinance clients for RANLife and the urgency in homeowners continues to remain stable.
"We've hit the bottom, and now we are starting to come out it," stated RANLife's Principal Broker, Britt Sharp. Last week, CoreLogic reported that its repeat-sales Home Price Index (HPI), based on sale prices for the same homes over time, posted a 10.3% year-over-year gain in February for the state of Utah. For many months now, almost every new report on the US housing sector is showing signs of improvement, and the road to a robust housing recovery keeps getting stronger.
High demand and low inventory in the Utah housing sector has driven up existing home values while still maintaining record high affordability for buyers and sellers. With the current market situation, RANLife is seeing more and more homeowners who were waiting for equity to come back now able to refinance or sell their home.
CLICK HERE FOR A FREE HOME EVALUATION
"If you're not sure what your home value is or maybe in the past you found out you were underwater on your mortgage, talk to an agent today," Sharp explained. RANLife is seeing that those who were totally upside down on their mortgage might be seeing some increased values with comparables that could make a big difference in appraised value.
Another trend recently reported by RANLife is the urgency of homeowners wanting to sell their home. Being the sister company to a mortgage lender, RANLife Real Estate works with a lot of buyers but recently they have seen more people wanting to sell and then upgrade. "We are still working with first time homebuyers, but now we're working with people wanting to sell and buy a new home," said Sharp, "both things of which can be accomplished with RANLife Home Loans and Real Estate."
Sharp notes that although RANLife is seeing an uptick in refinancing and home sales, it's still a good time to buy. "If you are a buyer, interest rates are still low, and it's a good time to get out there because home prices haven't increased enough to where it's not affordable to homebuyers anymore. People can still get lower payments with lower interest rates." Besides low rates, there are still lots of deals out there on short sales, bank owned properties, and even regular sales because sellers now have a better idea of how to price their properties in order to sell.
RANLife's key advice, talk to a real estate agent or a qualified loan representative and find out your home's value today. The current market situation makes it a great time for buyers, sellers, and homeowners wanting to refinance and procrastination could be the deal breaker. RANLife's agents speculate that inventory in Utah homes will go up later in the year making spring the best time to take action.
Founded in 2001, RANLife Home Loans, is a mortgage lender based out of Salt Lake, UT, that provides a fast, personalized solution to obtaining a home loan or refinance. Great service, with great rates. This is RANLife's commitment we provide to all of our customers. For more information on RANLife Home Loans, please visit http://www.ranlife.com/index.php