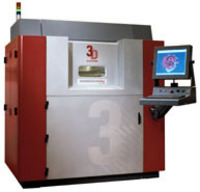 Add a quote
Springville, UT (PRWEB) October 3, 2007
Customers of existing rapid-prototyping and rapid-manufacturing (RP-RM) service bureaus now have another reason to consider the benefits of fractional ownership.
Tangible Express, the global pioneer in fractional ownership of manufacturing assets, has added to its state-of-the-art portfolio of RP-RM platforms with the purchase of a top-of-the-line Sinterstation Pro SLS 230 from 3D Systems Inc. The innovative RP-RM machine is capable of producing quality, durable prototypes and actual short-run manufactured parts without the need for costly and time-consumptive machine tools.
"Drawing upon our complete line of machines and platforms, we could, in theory, manufacture and assemble any plastic part for a user-ready kitchen appliance, automobile, plane, or even a rocket without requiring machine-tooled parts," says C. Alex Linde, President and COO of Tangible Express.
Best of all, Linde notes, Tangible Express makes its entire line of RP-RM machines, including the new Sinterstation® Pro SLS®, available for ownership at only a fraction of the cost of outright ownership of a single RP-RM machine.
Tangible Express's investment in the new Sinterstation® Pro SLS® reinforces the company's commitment to maintaining an unsurpassed fleet of RP-RM machines. Tangible Express now provides its fractional owners 20 platforms spread across 14 RP-RM units, all of which are less than one-year old.
The Tangible Express Sinterstation® Pro SLS® will be running 3D Systems' Duraform® EX, which is noteworthy for its outstanding toughness, excellent impact resistance and repeatable mechanical properties. Duraform® EX can make large prototype parts that yield end-use performance properties as well as final end-user parts in low- to mid-volume runs.
"At Tangible Express, we are freeing designers and manufacturers from the shackles of capital-intensive equipment," explains David A. McInnis, the visionary behind the RP-RM fractional ownership concept and chairman of Tangible Express and its parent company, US Reliant. "Designers, in particular, no longer need return to the 'drawing board' because their ideas can't be tooled. If you can draw it on a computer, our machines can produce it."
Unlike typical service bureaus, Tangible Express not only hosts, operates and maintains all of its equipment; it also sells ownership in the underlying assets. "Tangible Express clients aren't merely customers using the equipment, they are actually owners with all of the accompanying tax and balance sheet prerogatives afforded real owners," says McInnis.
Selective Laser Sintering (SLS) machines are known for their abilities to produce parts from a broad range of materials, including polymers, metals and green sand. In addition to the Sinterstation® Pro SLS®, Tangible Express operates SLS HiQ® machines, which run Duraform Flex®, Duraform PA®, and Duraform GF® as well as Duraform Ex®.
Linde notes that one of the great benefits of using Tangible Express's new Sinterstation® Pro SLS® is that the machine makes parts that are durable and reliable enough to utilize in initial production runs. "Why wait for a tool to be made before beginning assembly of large machines, such as a concept car or airplane?" Linde asks. "Our machines can produce surrogate parts in just a few days so that assembly can move forward long before the real part is finished."
The ultimately benefit, Linde adds, is speed. "Companies can use SLS parts in the initial production runs for final assembly, which dramatically reduces the time to market," he notes. "Saving time is an enormous competitive advantage."
Designers, engineers and manufacturers interested in discovering how they can harness the power of fractional ownership to supercharge their performance are invited to contact Linde and his staff at 801-794-2466 or visit them online at http://www.tangibleexpress.com.
###