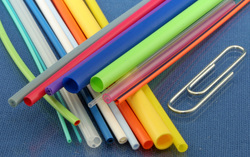 We recognized the advantages of providing the value-added service as a rapid prototyping manufacturer to our customers. Previously, for example, many of our medical device customers relied upon multiple vendors in developing their products, whether or not they utilized prototyping services, but this proved to be costly and time-consuming affecting the overall product development process
Salem, NH (PRWEB) September 29, 2009
A.P. Extrusion (http://www.apextrusion.com), a leading custom tubing manufacturer located in Salem, New Hampshire, recently expanded their range of in-house services with the addition of rapid prototyping to assist their customers with the product development process. Given this new rapid prototyping services, R & D engineering teams now have the opportunity to transform their two-dimensional dreams into 3D reality, as A.P. Extrusion can easily translate a design schematic or SolidWorks print into a 3D rapid prototype within hours.
"We recognized the advantages of providing the value-added service as a rapid prototyping manufacturer to our customers. Previously, for example, many of our medical device customers relied upon multiple vendors in developing their products, whether or not they utilized prototyping services, but this proved to be costly and time-consuming affecting the overall product development process," explains John Brusseau , President of A.P. Extrusion. "We've found that our customers from medical device manufacturers to automotive parts makers are continuously searching for innovative improvements for their products and parts. Now, with our rapid prototyping services they are further inspired to transform their design ideas into physical form. Because of the advancements made in rapid prototyping technology it is relatively inexpensive to produce an ABS rapid prototype before committing to a design."
Given A.P. Extrusion's in-house capabilities of creating a 3D rapid prototype, they can work with its customers throughout the research and development of their products. They begin the process by creating ABS prototypes of numerous design concepts for customers to test and evaluate. A.P. Extrusion's designers and engineers will continue to work with a customer until they are satisfied with a products final design before moving it into production
Using this method of product development allows R & D teams and engineers to evaluate and inspect a product's design for its form, fit and function quickly and efficiently. Rapid prototyping provides the opportunity to correct design flaws early in the product development process, which results in lower manufacturing costs and higher quality end products.
Companies interested in learning more about the competitive advantages that rapid prototyping provides are encouraged to contact A.P. Extrusion for more information at 603.890.1086 or at info (at) apextrusion.com.
A.P. Extrusion, Incorporated
A.P. Extrusion, Inc. located in Salem, New Hampshire, is a New England-based manufacturer of small diameter plastic tubing and a 3D printing service provider. We have over 20 year of experience in the custom, plastic, and medical tubing industries. Our experienced staff of engineers and designers will work with your company to manufacture your prototypes and products. For more information, please contact us at 603.890.1086 or at info (at) apextrusion.com.
###