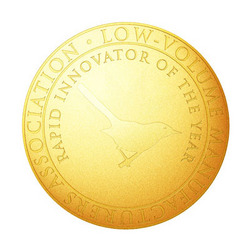 We feel the L-VMA award is a recognition of our innovative customers as well.
Springville, UT (PRWEB) January 21, 2008
Tangible Express, the global leader in innovative rapid-manufacturing, rapid-prototyping and rapid-tooling services, has been named the 2007 Rapid Innovator of the Year by the Low-Volume Manufacturers Association.
Although less than two years old, Tangible Express has quickly become a global leader in the additive fabrication industry, operating a modern fleet of Rapid machines, including the world's most advance SLS® machine (Selective Laser Sintering) as well as 13 other state-of-the-art systems.
Moreover, Tangible Express is the first company in the world to make its entire line of rapid manufacturing and rapid prototyping machines available for fractional ownership, thus enabling companies both large and small to enjoy all the benefits of ownership without the large expense and hassles.
Unlike typical service bureaus, Tangible Express not only hosts, operates and maintains all of the equipment on behalf of fractional owners, it provides owners dedicated and specially trained support; a world-class uninterrupted power supply; and the ability to swap or add capacity as the need arises.
In honoring Tangible Express, the Low-Volume Manufacturers Association (L-VMA) said that the company has "made a clear and unambiguous statement that 'rapid' is a technology not just for the future, but for here and now."
Dean Rotbart, L-VMA's director, said that his volunteer organization was particularly impressed by Tangible Express's move to permit all entrepreneurs, inventors, engineers and designers to share in the revolutionary benefits of 'rapid' ownership.
L-VMA noted that manufacturers as far away as China have taken a strong interest in the Tangible Express approach, which was also a hot topic among many delegates attending the recent Euromold fair in Frankfurt, Germany.
Rotbart, who oversees L-VMA on a volunteer basis and has done paid promotional work for Tangible Express and other companies in the industry, noted that "I had the privilege of getting to know first-hand many of the companies…from the inside out."
In May, Rotbart and other L-VMA members will present the Rapid Innovator of the Year award to David A. McInnis, Tangible Express founder and chairman, and C. Alex Linde, president and chief operating officer, at a ceremony timed to coincide with the annual Rapid Conference & Exposition, to be held this year in Lake Buena Vista, Fl.
"Our greatest honor is watching the success our customers enjoy because of their association with Tangible Express," said McInnis. "We feel the L-VMA award is a recognition of our innovative customers as well."
Linde added that Tangible Express took special pride in being included among the group of L-VMA finalists, including Desktop Factory, Materialise Group, Stratasys Inc., and Medical Modeling.
"Our industry has many, many fine companies," Linde said. "We are thankful that the L-VMA is dedicated to showcasing each of our efforts."
To learn more about what Tangible Express and its "fleet" of innovate executives and machines can do to advance your business goals, phone Bert Keynon, vice president of sales, at 714-322-9804 (or email him at bert @ tangibleexpress.com).
###