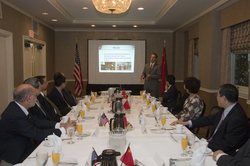 The Chinese people like [efficiency and cost cutting] very much.
Portland, OR (PRWEB) September 6, 2007
Key members of the Chinese diplomatic corps, including His Excellency Zhou Wenzhong, Ambassador to the United States, met here to learn about opportunities in fractional ownership of U.S.-based rapid prototyping and rapid manufacturing (RP-RM) equipment.
David A. McInnis, who led the U.S. delegation of business executives, explained to the Chinese Ambassador and his colleagues how fractional ownership of RP-RM technology can serve the interests of both the United States and China. McInnis is founder and CEO of Tangible Express, a Springville, Utah-based company that is the first in the world to offer shared ownership of state-of-the-art, low-volume manufacturing technology.
While the Chinese are proven global leaders in mass production, the country frequently must turn away low-volume production orders and prototype-related work. In a formal presentation, C. Alex Linde, Tangible Express' President and COO, showed the Chinese diplomats how their country can strategically deploy U.S.-based RP-RM manufacturing to serve their clients' short-run manufacturing and prototyping needs.
Ambassador Wenzhong, who was joined by members of both the Chinese Embassy in Washington D.C. and the San Francisco Consulate, expressed strong interest in Tangible Express' business model and how it might aide Chinese manufacturers.
"It is a wonderful idea to improve efficiency and cut costs," the Ambassador said of RP-RM after the briefing was completed. "The Chinese people like [efficiency and cost cutting] very much."
Tangible Express' Linde stressed the fact that his company's patent-pending system makes it possible for any global company to own and control key, high-tech manufacturing assets in the U.S. at a fraction of the cost of purchasing and operating those assets outright. Importantly, Linde noted, U.S.-based companies that do large-volume production overseas can utilize the Tangible Express model to rapidly design, make and test small-volume runs before committing to full, costly production.
Tangible Express' McInnis, Linde and other key company executives will visit China in October to continue their briefings and meet with Chinese manufacturers seeking to invest in the United States.
"We were truly heartened by the strong interest Ambassador Wenzhong took in Tangible Express," McInnis said. "The investment of his time and that of senior members of his diplomatic corps illustrates the enormous power embodied in our vision of fractional-manufacturing."
Tangible Express came to the attention of the Chinese on the heels of its rapid growth and success making shares of RP-RM equipment available to U.S. manufacturers, engineers and designers. The Tangible Express model allows companies the benefits of ownership, without incurring the expense, overcapacity, repair and maintenance hassles, or risks of obsolescence that are associated with full ownership.
Companies that buy Tangible Express fractional shares are also able to access the unused capacity of other fractional owners if their needs change or grow.
More information on the innovative solutions offered by Tangible Express and its parent company, US Reliant is available at http://www.tangibleexpress.com and http://www.usreliant.com.
Contact:
Alex Linde, President and COO
Tangible Express
801-473-1922
Media Contact:
Dean Rotbart, Communications Manager
Tangible Express
310-202-1759
###